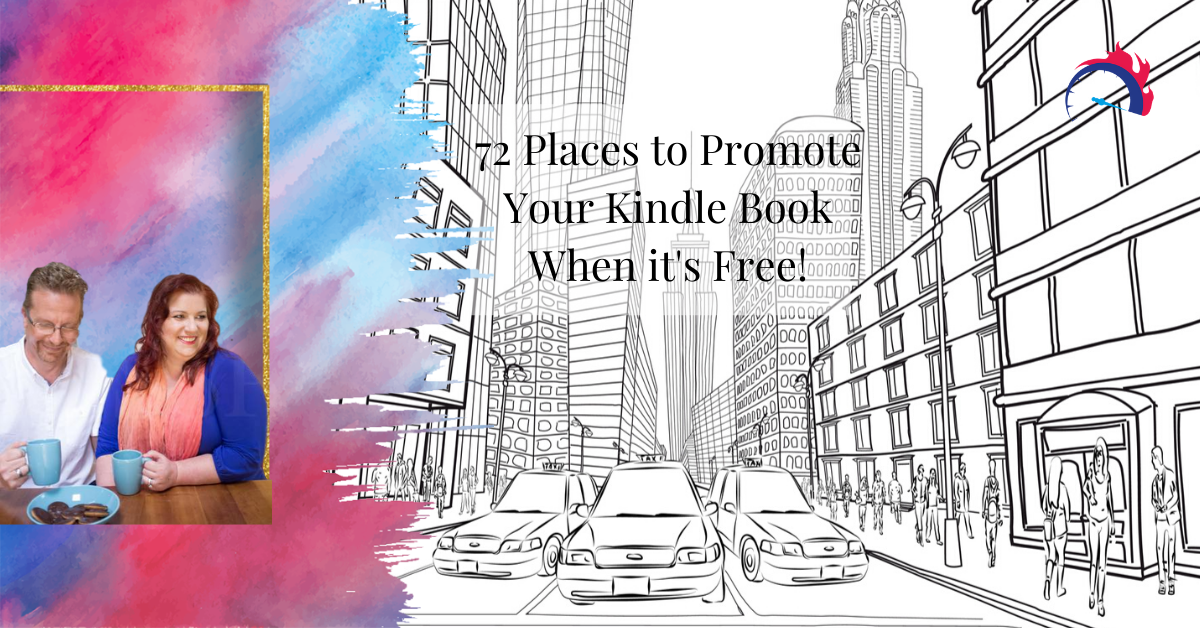 You've enrolled your book in Amazon's KDP and you now have up to 5 days in a 90 day period to give away your book for free. Fantastic! This promotion is a powerful way to kick-start the sales of your Kindle book, so to get lots of downloads you need to advertise your free days in as many places as possible.
Each site listed here is one that I've used or have been recommended to use by another author. Each location will have it's own terms and conditions. Some sites ask that you have at least 5 reviews others specify no erotica,  check out the details before you start submitting your books.
If it seems like a lot of work check out Fiverr.com and see if there is a gig that will help. You can often find someone who'll submit your book to free websites or submit press releases for you.
Websites for free book giveaways
These sites can be done in advance of your free days, although some will only allow you to list them if they are currently free. These sites are in no particular order
http://authormarketingclub.com/members/submit-your-book/ (you have to be a member, but membership is free)
http://snickslist.com <– one of my favourite places
http://digitalbooktoday.com/join-our-team/12-top-100-submit-your-free-book-to-be-included-on-this-list/
http://www.mobileread.com/forums/ (membership required)
http://ereadergirl.com/submit-your-ebook/ – Christian Books Only
http://www.ereaderperks.com/about/
Some of the websites offer enhanced listings and these seem to increase downloads by around 10%, so if you are after every download you can get consider a budget for the enhanced listings.
Facebook for promoting (they all seem to have the same name…)
Facebook works best when the book is free. I've found that groups appreciate it if you go back after your free download day and let them know how it worked for you and to thank them for their help.
Some authors like to do a free book event on Facebook where they invite all their friends to an event and update them throughout the day. This works better when you giveaways spot prizes to people who share images and quotes related to your book. I've not tried this, it's just not my thing but two friends have done it with good outcomes.
As well as free giveaway groups and pages, join groups where your target market is active. They are more likely to download and review your book. Spamming any group will not win you any friends.
Promoted posts work okay on Facebook but ads for the free book can be costly, (as you are taking someone off of Facebook), and not as good value for money when compared to paying for an enhanced website listing.
Twitter Hashtags
Again, something you organise for the day of the free promotion.
#Amazon
#BookBuzzr
#BookGiveaway
#BookMarketing
#Kindle
#KindleBargain
#KPD (Kindle Publishing Direct)

#WLCFreeToday

#FreeKindleReads
I recommend using #free with the other hashtags as well – #free #kindle or #free #ebook. If you book is geographically sensitive I'd add the area hashtag as well – #Free #Kindle #UK. I've found that 6 tweets at varied times throughout the day with different hashtags work well. You don't overwhelm your followers but you get a good amount of downloads and ReTweets.
You can also organise a Twitter party for your free book promotion.
Remember to schedule emails to your newsletter letting them know about the free promotion and of course, inviting them to share your book. One of my co-authors has a large email list and this always kick-starts our promotion.
Press Releases
Press releases work best when backed up with a PR person making calls and generating conversations around your books. Free press release sites can work just as well for you, providing you tailor the press releases and they have an interesting hook and story. Remember to contact your local newspapers as well as online press release sites.
http://www.tmcnet.com
 http://us.cision.com
http://www.webnewswire.com
Blog Tours
I'm in two-minds whether this works or not.
I've organised one for a client and it went down really well. He generated a lot of interest in his book (and sales). I've done one for myself and that did well. Friends have done them and they've not done too well. As a blogger I'm well-connected, I chat to a lot of people and perhaps I just found it easier than other authors.  It's up to you to decide if you wish to go down the blog tour route. Blog tours can cost the author a lot of money, so budget wisely and remember to link them with your free download days or just after, when you are high up the Amazon charts.
http://authorblogtours.com/

http://www.blogtour.org/
Better than blog tours  – a series of targeted guest posts on sites that share your audience.
Okay that's 72 places you can promote your free Kindle book when it's on promotion (I've not included the Twitter hashtags). You can also utilise social media, networking groups and forums to help promote your book.
Networking and social media tools to promote your books
Create a slide deck on Slideshare
Create videos on YouTube
Get interviewed on podcasts and radio shows
Livestream a reading session with your book
4networking.biz (blatant ads section)
What doesn't work when it comes to marketing your free book?
Not telling your family. My family have no frickin' idea what I do but that doesn't mean they won't tell people about my book. I realised this when I found my teenage daughter proudly sharing one of my free books with her friends. Just because they don't understand your work it doesn't mean you can't let them be proud of you.
Not telling your friends. Many of my friends are social media fanatics. When I published Zero to Social Media  I kept quiet. I didn't tell them about my books as I thought they knew everything that I had to say. Apparently not. Tell your friends, even if you think they know everything and it's not of interest to them.
Thinking that Amazon will do everything for you. Amazon does an awful lot to keep promoting a popular book. But you have to start the process. You cannot sit back and think "I've published, it's free… I'm done now". Your job as a published author is only just beginning.