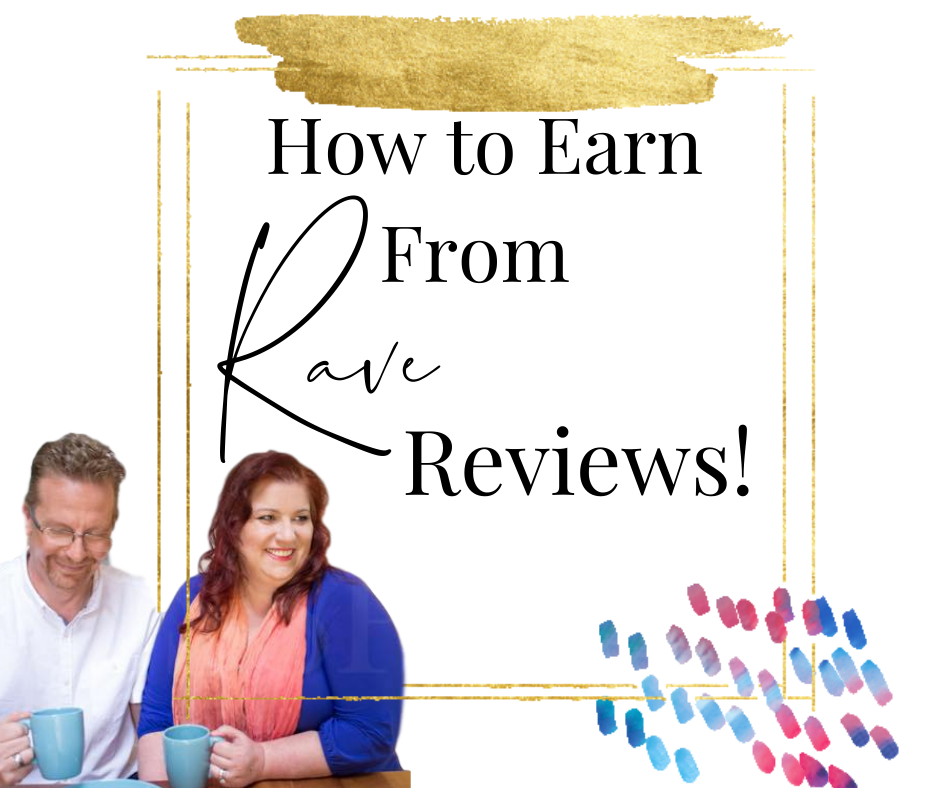 You're an entrepreneur, and you're probably wondering how a rave review is relevant to you and your business. Think about how you purchase a new product for a moment… You may ask your friends, you may read a review or you can search for a review in the search engines.
The word "review" is a buying search term. When someone is looking for a review on a topic they're looking to buy. Not only do rave reviews get your website found by buyers, they make your site attractive to dream clients.
There's a secret though to making the most of your rave review content:
You write honest, caring reviews about the products and books that your target market love. Of course, there are financial aspects for you – your readers buy the product through your blog, earning you an affiliate commission. But this type of content isn't just about the payment; it's about the connection to the audience and helping them make the right decision for their business. It's about sharing your wisdom and understanding of their needs.
Your reviews are not sales pitches or promos, but in-depth guides to products that your reader wants to know about before they buy. It's not about choosing a product and then slapping up some screenshots, and your thoughts – you need to be remarkable to earn more from your reviews. Adding a little creativity to spice up your product reviews can go a long way in increasing your income from your blog.
Rave Video Reviews
Personally, I hate video reviews with a passion but two things spring to mind… They are hard to fake. People can spot a fake video review a mile off, and secondly… They take a little time to get right and people appreciate the effort.
For a rave video review, you need to take a little time to create a script and get your lighting right, and then rehearse what you are going to say. Next, get in front of the camera and tell your viewers about this exciting new product you've experienced or are trying out.
One great advantage of video review is that they add a personal touch and viewers can visibly see your enthusiasm. It's also a different way for your fans to consume your content, in two locations – your blog and YouTube. Some people would rather watch videos than reading, so you may get a better connection with your audience.
Video reviews are relatively easy to produce and social media sites offer wide-scale distribution. Remember to add your affiliate link into the video description and add the word review to the title. Remember people search for reviews 🙂
Rave Video Demonstrations
Even better than just telling people about the product, give them a look at what it can do. Demonstration videos are better than a simple "talking head" because a demo shows viewers the benefits they can get from using the product. Tutorials are very useful to your reader, showing them how to achieve a specific goal using a tool you are affiliated with converts very well.
You can use a tool like Snagit to record a simple "look over your shoulder" video and then upload it to YouTube. Snagit has a free 30-day trial so you can get a good few recordings under your belt before you have to pay anything. Remember you can also show your reader the product's value by demonstrating other ways it can be used.
Here's a review demonstration from Kevin:
He's delivered this via FB live, and now I've added to a blog post. Your review can also be downloaded from Facebook and uploaded to YouTube. Find out more about live video to blog post here https://www.contentnitro.co.uk/livestream-to-blog-post/
Interview the Product Creator
An easy and effective way to create reviews is to interview the creator of the product. This is often overlooked by entrepreneurs, but its something that magazines do all the time, and authors are used to doing. Ask them the questions your readers would want to know before buying their product. One nice thing about interviews is that you don't have to create the content yourself; you only need to come up with some key questions and let the creator do the talking. For the interviewee, it's free publicity, so it's a win-win.
Add Your Own Bonuses
Along with your product review, make your readers a valuable bonus offer. Tell them to send you a copy of the receipt and you'll give them a bonus. If you don't want that hassle, look to promoting a product through Thrivecart where adding bonuses is easy to do – all you have to do is market the product.
The bonus can be a digital product that's easy for you to produce or you can repurpose older yet still valuable content from your blog into something new. The best bonus is one that helps the buyer use the product, like a cheat sheet, resource guide, or better still a tutorial video.
Check out the Competition
Read reviews on other sites of the same or similar products to the ones you are promoting. Write your reviews so that they mention different aspects of the product and how they benefit your audience. Another way to make your reviews stand out is to give the reader more detailed information about the product than what your competitors discuss – you can tell a rave review from one that's in place for search traffic and so can your readers.
Honesty in Reviews
Make your reviews open and honest – declare if you have a free or advance copy of the item
Mention the weak points of the product as well as the features you like – add a wish list of how you would like the product to develop if you can't find any real faults.
Give people a fair and balanced picture of the product's real pros and cons to help them make an informed decision.
These 3 points will help you better establish trust with your readers, and your reviews will have a much more remarkable quality than those on other sites. Too many entrepreneurs are frightened to review honestly for fear of offending the product creator. If you want to attract dream clients then writing rave reviews is a fantastic way to reach your audience, but you have to get over the fear of offending. If you review from the heart, then if you don't you'll look like a company puppet and your readers will know that you have their very best interests at heart.
When you have the best product reviews, people will buy through your link first. This means you need to make sure your rave review posts are ones that focus on your reader and their needs beyond anything else.