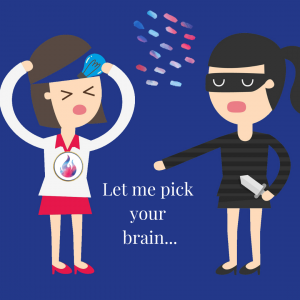 I created my first pick my brain page in 2011. It was my response to all the people asking if they could just pick my brain. This phrase has often been as used as a way to avoid paying for your knowledge or skills, but it doesn't have to be that way… As your influence and popularity grow you will find that you need a brain-picking page. This post is about how you can create your brain-picking page without offending people or having endless coffees that go around in circles.
Step One: Create a New Page and Call it "Pick my brain"
Erm, that's pretty much it for step one. Simply create a new page and call it pick my brain.
The pick your brains page simply outlines how people can work with you for free, whether you do discovery calls (or not) and how to work with you when they're ready. It also contains a delightful offer, just for the brain-pickers.
Step Two: Writing Your Brain-Picking Content
Writing the actual content for your brain picking page requires balance and some finesse. You need to share a few things to position yourself on your brain picking page before you get to the next stage…
Start with much you've invested in time and money to achieve your position. This helps your reader understand
How to work with you for free
Where your reader can ask questions
Where they can work with you low-cost – buy your book
Where they can book a session if they need one to learn a specific skill / bespoke answer
Remember to add a nice photo of you, using your branded image template.
Step Three: Add Your Delightful Brain Picking Offer
Yup, make an offer to the person reading this page. You know they need help. They know they need help. So make them an offer.
A 30-minute call for $10 (weeds out the freebie seekers)
Low-cost bundle of worksheets and other useful items
Exclusive brain-picking tools (works brilliantly for coaches)
Add a visual of your offer using something like Smart Mockups. Adding a visual of your offer ie a book cover, a computer with your course page etc helps your reader understand the value of your offer better because they can visualise what you do.
Your brain-picking page is also a great place for a testimonial. Here your reader can visualise working with you.
Finally, link to your well optimised contact page so that your reader can book a call with you when your brain picking page inspires her to reach out to you.
Publishing & Promoting Your Brain Picking Page
Now you've created your brain picking page, I recommend you sleep on it and then publish. When you look at this page again, remember to edit out the ifs, buts and maybes. Be confident in your language; you're great at what you do so don't be hesitant in your words. For some people when they create this page they feel that they're being rude to people who need help. As a business owner, you've got many options for people to access your content for free from your blog to your livestreams. You've invested in your skills and developing them, so your brain picking page will share this aspect of your journey. Those that read it will be inspired and your brain-picking offers will encourage them to choose themselves.
Oh, the promoting aspect… When someone asks to pick your brain ask if they want to book a discovery call or visit the brain picking page. Then send the link they ask for.
Add a link to your brain picking page in your emails. You'll be surprised (in a nice way) at how many people click and have a conversation with you.
Are you ready to create your brain-picking page? Got one already? Share a link to yours in the comments.