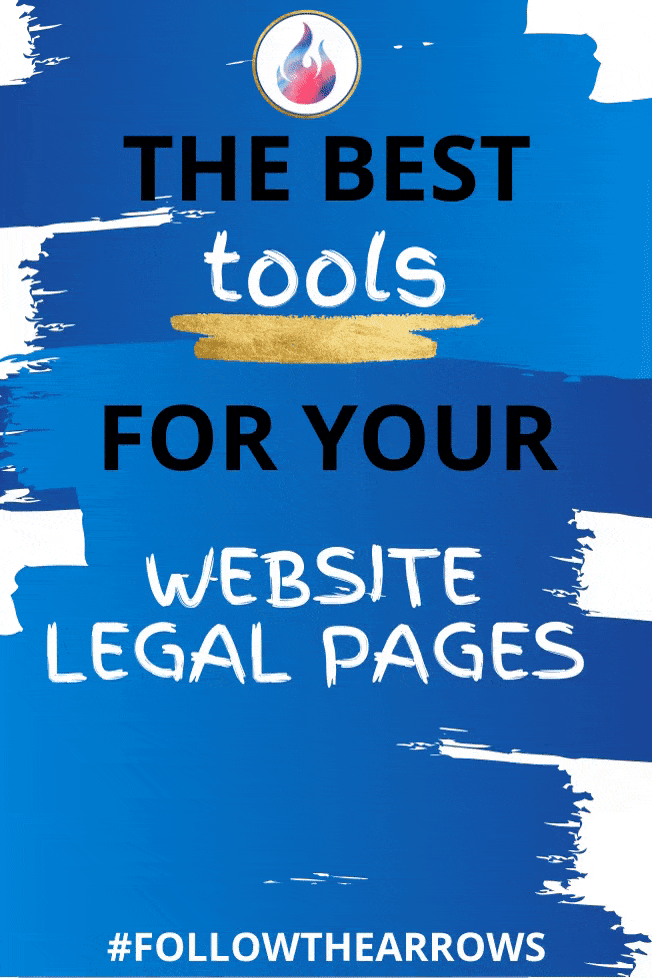 No, it's not a trick question. A website needs a few things to be legal! This post will help you get your website up to scratch and ensure you have the right legal pages in place.
What Pages Does Your Website Need to be Legal?
A privacy page
Terms of business page
Cookie policy
Additional pages
That's quite a short list, and there's a website legal pages checklist at the end of this post, however, it's not definitive. If you are a lawyer you will have certain legal pages that are required for your industry, accountants will have theirs and florists will have ones specific to them. If you sell online you will need a page relating to delivery, postage and what to do if something goes wrong.
The purposes of these pages are so your prospects and customers have an understanding of you and your business. The right legal pages make your readers feel safe and ready to do business with you. So let's pop the hood on these legal pages and see that yours are ready to go.
Privacy Policy Page
This is the page where you talk your reader through how their data is used. Now, if you are telling me you don't use data and therefore you don't need a privacy policy… Wrong answer!  If someone visits your website you know some things about them. For example, I know in the last week I've been very popular in Canada. I don't know who, but I do know where. That's data. I have people join the blogging challenge and give me the email address that's personal data. If someone contacts me that's personal data. There's a lot of data flying around the internet and your website and you don't even realise. We can be oblivious to it.
The Privacy Page is where we talk about what we will do with this data. What's identifiable and what someone can do if they want to talk about this with us.
WordPress has a privacy page option to help you with this in the settings of WordPress. In your dashboard area scroll down until you see "settings" on the left. Click this and then click privacy. A new screen will appear and walk you through what to do next. Here's a quick video from Kevin showing you what to do next:
Your privacy page can be displayed in a few locations – your about page menu, your footer (where mine lives) and in your sidebar. It should be obvious where it is.
Terms of Business Page
This is the page you link to on your checkout page when someone buys from you and it's in your proposals and on your invoices. These need to be written by a lawyer. This forms the basis of how someone works with you. It should include your refund policy, cancellations etc.
You might want to add in a section on limitation of liability: a disclaimer stating you're not responsible for things like mistakes in your content, the content of any external sites you link to and other things that you might think is obvious but isn't.
You also need to assert your copyright here and any permitted uses of your content. Some content marketers have their own, separate copyright page to make it clear what's allowed and what's not.
If you let users guest post content on your site, guidelines on what content is or isn't be allowed and what behaviour is expected. Again, some website owners have this as a separate page on their site.
Cookie Policy
I'd love to be saying this is a policy you can nibble on from time to time, but sadly it's not. As well as a cookie policy you also need a cookie consent pop-up inviting your visitors to consent to cookies.
Your cookie policy outlines what you do with your cookies and what cookies you use and how to opt-out of the cookies.
The Cookie Page Generator is a useful starting point https://www.cookiepolicygenerator.com/generator
I also found the Termly.io Cookie app useful in working out what cookies were on my site https://termly.io/products/cookie-consent-manager/
Other legal things…
Depending on where you are based in the world depends on where you put your company information like the type of company that you are, business registrations, VAT numbers (UK and EU) and registered business address. Many website owners put these in their website footers and on their contact pages.
This page doesn't constitute legal advice and other disclaimers.
You should consult a legal professional. Your web designer is not a legal professional. Your copywriter is not a legal professional. Unless you are a lawyer, you are not a legal professional. This post is your starting point to ensure your website is legal. As you grow you will need to get professional advice and ensure you are compliant where you need to be. If you use testimonials on your website you will need to add in a disclaimer around these so your audience understands them better. If you talk about your client's earnings then you need a disclaimer around these as well.
Download your bonus website legal pages checklist