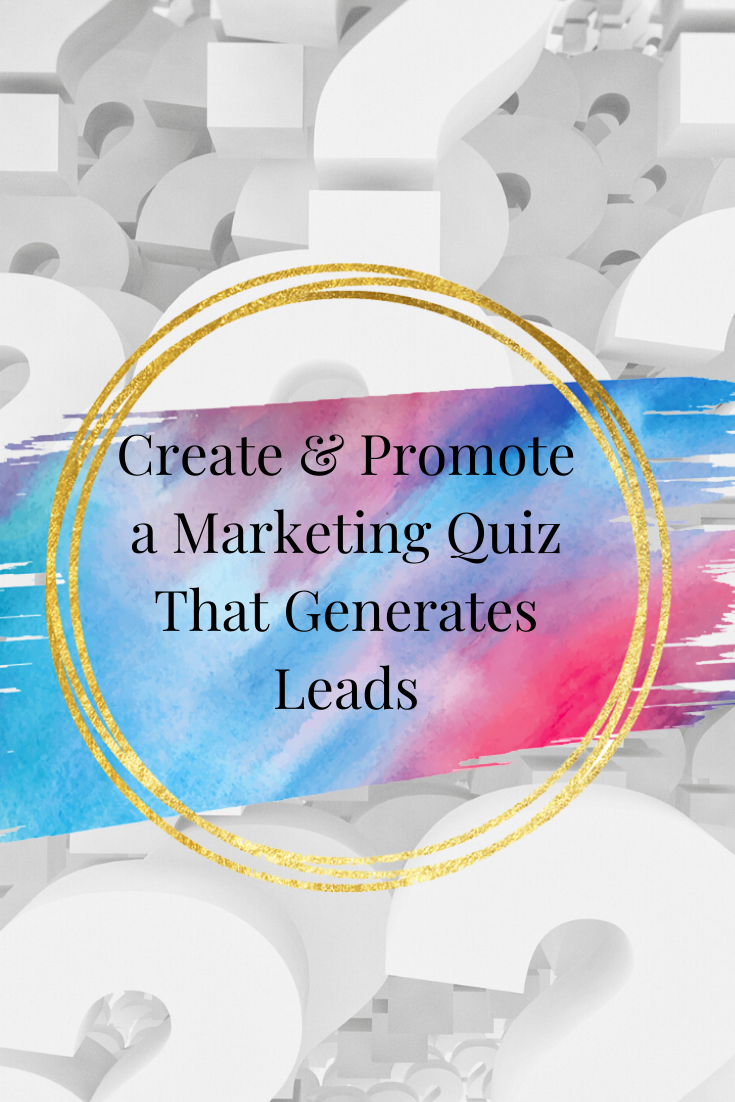 You need more leads for your business. You've got brand awareness coming out of your ears (everyone and their dog knows what you do and how fabtastic you are), and you're thinking about something fun for your audience. What about creating a lead generating, marketing quiz? Something that engages your reader and drives good quality leads onto your email list…
Well, you're in the right place! In this post, you'll
Discover the secrets to creating a lead generation quiz,
The number one thing you need (or you'll never generate a single lead),
The perfect tool for your marketing quiz!
Plus 4 different ways to market your quiz, so your quiz funnel is filled with dream clients!
Lead Generation Quizzes: Too good to be true? Actually…
Lead generating quizzes have been around for a while and the most popular article on the internet (ever) isn't actually an article. It's not a picture of a cat either. It's a quiz. Yep, the web's most popular piece of content ever is a quiz.
Your audience doesn't just love quizzes online, they're popular in the real world too. I can recall wondering what to put on in my pub when the football season finished. The answer was a sports quiz. Just as long as a football match and it was just what my clientele wanted. Regardless of how I felt about the quiz (I dislike football), the customers LOVED them more than the matches themselves. Which is not surprising when you recall how the England team play ;).
Lead Generating Quizzes are hugely popular in any niche
Nouns. Ever fancied taking a quiz on nouns? I can't say that it appeals to me, but 7,500+ people have taken a quiz on nouns. What about recognising views? 695 people have taken this quiz about views. Geocaching Manners? Yes, there's a quiz on this topic as well.
So if you're thinking I can't do a quiz as my business is too tough / hard / boring you can sit right back down and carry on reading! You're out of excuses. If people take quizzes on nouns, views and geocaching manners, you've got no rock to hide under.
I know it can be frustrating to spend hours researching and creating content for it to get very little traction with your readers.  A good quiz works for any niche, even the desperate niches. A bad quiz is just like any other piece of content that you create half-heartedly. How do you create a great. traffic sucking, lead generating quiz? With research of course 🙂
Researching Your Lead Generating Quiz
Go to your search engine of choice and type what you do and the word quiz. I use "blogging quiz". With 950,000+ results, I could be gone for some time. The good news is with less than a million there's room for me in the niche, and there's room for growth.
The next step is to actually take the quizzes you've found. Make a note of
Short quizzes or the longer ones?
Do the quizzes have visuals?
What tools are displaying the quiz?
Is it embedded into the page or something else?
Make a heap of notes and see what quiz experience stands out for you. Which ones made you feel good? By going through the same quizzes your audience do, you will get good ideas around what include in your marketing quiz.
Next up, my favourite research tool – Buzzsumo. Here go and search again to see what quizzes are being shared across social media.
I'm reassured that a lot of diverse businesses have quizzes that are popular on social media and that at least 24,000 people need to know if they're a cat person. But when I change the search to a specific blogging quiz, there's nothing. This means a blogging quiz might need more work in order to go viral across social media. An ordinary, run of the mill Q&A blogging quiz isn't going to impress the potentially quiz-fatigued blogging audience!
Your Lead Generation Quiz Headline (or Title)
You've done your research for your lead generating quiz, and now you need to decide the goal of the quiz. I'm going to assume its a lead generating quiz because that's what I have in the headline of this post. What you call your quiz matters. The headline indicates the goal of your quiz and entices the reader to click.
You have two options when choosing the headline for your quiz. You can go for the keyword rich headline, or you can ask a question. From the examples in the screen shot above, from Buzzsumo, you can see that asking a question works incredibly well.
You can (and should) use a tool like Thrive Headline Optimiser to split test what works the best for your audience. As your quiz is a lead generating one, you'll need to think about how you optimise the post for searches on the quiz topic.
Remember, as with all headlines you can edit it later for better impact.
How Many Questions Should Your Marketing Quiz Have?
If your reader is reading the questions and clicking the answers, then you can have a longer quiz. 20 questions takes approximately 5 minutes to read and answer.
If your quiz taker has to type an answer, then it will take a little longer. 10 questions here can take as long as 30 minutes to answer.
I recommend something that is quick to complete. If the quiz results indicate you need more info, then upsell your quiz participant the longer quiz experience. They're invested in the process so they're more likely to complete the second quiz for a more detailed result.
Now, you may only need to ask one question to determine something. But one question does not make a fun marketing quiz experience! Add in other questions, even if you only want to know the answer to one.
What Type of Questions Should Your Quiz Ask in Order to Generate Leads?
To know the questions, you need to know the end goal of your quiz. As it's a lead generation quiz, your end goal will be to persuade your participant to subscribe.  What will encourage them to subscribe?
A more detailed response
A coupon
A mini-training course
An exclusive video
The end response should match your marketing quiz. If you do a quiz about coffee and the results page offers the outcome and an optin form for a 50% off of dog food, then you're not going to generate many leads. Your quiz and your optin offer should be in complete alignment with each other, as well as your business goals.
Knowing your end goal, means you now can plan your questions so that they lead towards it. In my marketing audit quiz my quiz leads them towards the end goal of marketing plans.
To keep it fun, each question has two or three responses from "marketing top dogs".
Feelings Matter In Lead Generating Quizzes
Remember back when I asked you to research the quizzes out there in your niche. I asked you to make note of how you felt as you took the quiz and were given the results.
Your quiz needs a positive vibe.  Your quiz will not generate many leads for you if you make people feel bad about themselves. Positivity is the number one thing you will need to generate leads.  Even the negative / no answers need a bit of positivity about them.
In the screen shot above you can see the negative answer is "thinking about it" rather than an outright no. This means the person taking the quiz doesn't feel bad, mad or sad if they have a negative response.
There's also a third option on some of the questions. By having a third option every few questions means the quiz taking experience is a focused one. If you have two responses consistently, or three responses consistently the quiz taker can just fall into a clicking pattern. By interrupting this, you are keeping their attention on the questions.
The third response in the marketing audit has a flip answer, and a dog doing something fun. This is to recognise that our company understands the quiz taker has more fun things to do than constantly worry about their marketing activities.
Keep this in mind as you compile your quiz questions.
Choosing The Images For Your Quiz
The visuals matter when it comes to creating your quiz. If you can have images with your quiz, then you've got an opportunity to forge a deeper connection with your dream clients. the right images will resonate with them and they'll feel on the same wavelength as you.
When creating the 5 Minute Marketing Audit I spent £60.00 on images of dogs and cats. Although I only used about half of them in the end. Your images should have the same theme throughout. By doing this you will have a consistently branded marketing quiz. This means there will be no point of friction for your participant.
You will need some of the images you source for your optin page, your lead magnet / report, your landing page and your ads and promotional actions.
I sourced all my images from Deposit Photos. There are other free image sources listed in this post if you don't have a budget for images.
Your Marketing Quiz Software
Once you've got your questions, you now need to sit down and do your research for your marketing quiz software. I used to use Viral Quiz builder by Shane Melagh of ActiveGrowth. His team recently rebuilt the plugin and I now use the new and improved version Thrive Quiz Builder.
I've chosen this for my quiz because I don't want to muck about with embed codes, branding etc, I want to keep everything on my site and I want the ability to do some more advanced level marketing if I need it.
There's also the following marketing quiz software:
I recommend that you go and subscribe to the free trials, and see how each one feels and integrates into your site. The best one is the one that you will use. An all singing, all dancing marketing quiz software program is no good if you don't use it!
If you are using your quiz for lead generation, you need to make sure that you have the ability to capture emails in your quiz software.
Promoting Your Lead Generation Quiz.
The best lead generation quizzes will have a viral aspect built in. On completion of the 5-minute marketing audit, you see a marketing top dog complete with a result. The quiz participant has the option to share it on Facebook, Twitter or Google Plus. If your target audience hang out in a specific space like Pinterest or LinkedIn, you need to make sure that you have the quiz software that will facilitate sharing there.
Your first step should always be to mail out to your subscribers and ask them to take the quiz, and feedback to you about it. They're your subscribers and they're more likely to forgive any typos and let you know about them! This often will be something that converts your subscribers into super fans, as well as persuading them to interact with you.
Promoting Your Quiz Using Facebook
Facebook ads will kickstart a good marketing quiz very quickly. If you focus your Facebook Ad directly to your dream clients, you can then retarget those participants with the relevant follow-up ads. If Facebook ads are too complex for you, then a simple boost of your post will be enough to get you started. You don't need to spend a lot, and your leads, if correctly targeted, should pay for themselves very quickly.
Facebook groups are also a good place to share. Make sure you share in a group you're active in. If you explain what you're trying to achieve you will have some members help you. If you just post up a link and cross your fingers… Well, you won't get the result you're looking for.
If you have your own group, you can add your marketing quiz to the pinned post. When you greet new group members, direct them to the quiz.
Remember you can also change your cover images to reflect the quiz and in the description add a link. In the website URL section you can link to your quiz, and on your page you can share screenshots of your quiz and a link to it.
Promoting Your Quiz Using Twitter.
Use your pinned Tweet to invite followers to take your quiz. Schedule tweets about your quiz to go out every day, but vary the text, the call to action and the hashtags you use.
Search for Twitter users who are struggling with what you do, and invite them to take the quiz. This is something that's quite elegant.
It's useful
It's not spammy
Optin isn't forced
Don't mass message all your followers and beg them to take the quiz. For every person that thinks "Fab, this is just what I need" another is hitting the spam button.
Remember your Twitter Header image is a lovely big space, so you can encourage those that visit your profile to take your quiz.
Promoting Your Quiz Using Pinterest
Promoted pins will do really well with a branded pin. Promoted Pins are similar to ads on Pinterest. Again you will promote to a specific audience and not anyone warm and breathing. It pays to do your research here Here's my branded pin:
The Pin is in my other site's brand colours and fonts, with the URL. I can create a series of images to share a story, and have them on a custom board. Each day I can share to the group boards I belong to (where appropriate) and I can also break this post up into tips and create pins for them.
You'll notice here there's a disconnect between the images on the Pins (which are perfect for the Pinterest audience) and the images in the quiz. For potential quiz takers not to leave immediately after landing on the quiz page, the images in the pins must be in alignment with the images in your quiz.
For my quiz to work with the Pinterest audience, I'll need to create some pins with dogs in them, as well as a quiz with styled interiors on. You need to get this right, or you will waste a lot of time and money marketing your quiz.
Image congruency works for whatever platform you plan to advertise on.
Promoting Your Quiz With Instagram
Change the URL in your Instagram profile to your lead generation quiz. Convert to an Instagram business account if you haven't already, and then connect this to your Facebook account. You can now promote a 'Gram to your audience.
If you're really active on Instagram, you can ask some of your friends to repost your image. As with Pinterest, you can create a stream of images on the topic of your quiz, and direct people back to the link in your profile.
Using a tool like Grum, you can schedule your Instagrams to go out each day and experiment with the hashtags that you use.
Promoting Your Quiz Using LinkedIn
Create a LinkedIn Pulse article, and make it valuable. It should be on the topic of your quiz and the call to action should be to take your quiz.
Share your Pulse article in groups that are filled with your dream clients. As with marketing in any groups, you'll get a better response if you are active in the group before you invite everyone to take your quiz.
If you own a group, send a group update and encourage the group users to take the quiz and share the results in the group.
If you have and use InMail, and you don't bombard people, then do message a few of your connections that are your target audience and invite them to give you feedback on the quiz.
Finally, schedule some status updates to share with your connections.
All you need to do now is nurture all the lovely leads that your quiz will bring you!
Are you ready to create a fun lead generation quiz for your business?

P.S. I really do recommend you take a look at the Thrive Quiz Builder plugin if you have a WordPress site.