Infographics are an important part of any well-rounded content strategy. It doesn't matter what type of information you want to share; an infographic is a great way to do it. The main reason is that everyone's brains are wired to learn things differently, but most people learn better if they have a combination of visual information (such as images), text, and interaction. That's why most presenters use some sort of visual cues during a speech or presentation.
Most of the research available shows that people retain information better if they can visualise a picture of it in their mind. Infographics help develop that visual picture of data that makes it easier to understand and remember.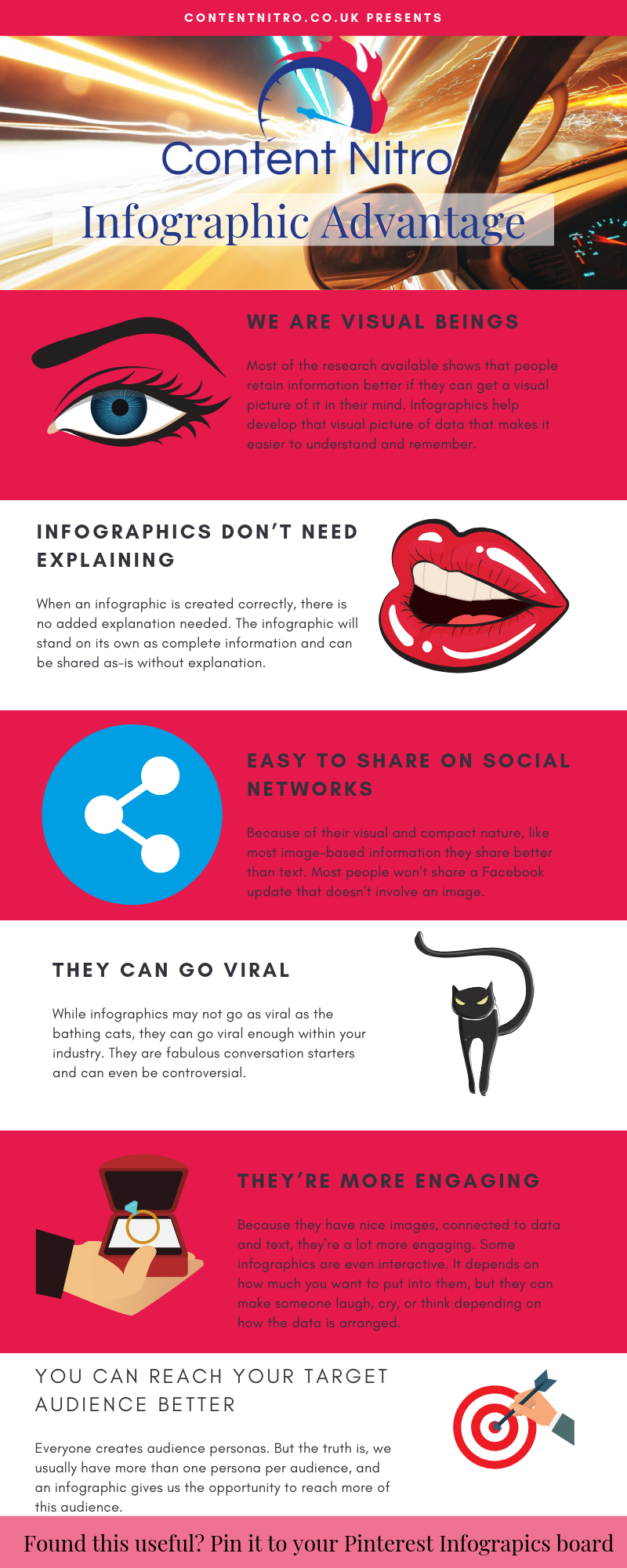 Infographics Increase Brand Awareness
Remember to add your logo to your infographics, they'll also spread awareness about your brand and boost your expert status. Most infographics are data-centered so if you show you know your stuff, you'll increase your audience.
Infographics Bring More Traffic to Your Website
When you put a watermark on your infographics and make sure your infographic has a landing page, you'll get a lot more traffic to your website. More traffic means more sales, and what's not to like about that? Infographics work because people like visual content. They are easy to understand and contain information that your audience needs.  Plus they're simple to share. If you work hard creating good infographics, you will succeed in your visual content marketing strategy.
Mistakes to Avoid When Designing an Infographic
My first infographic was not pretty, but their simplicity in conveying the information still helped it to go viral and gain a lot of shares on Pinterest.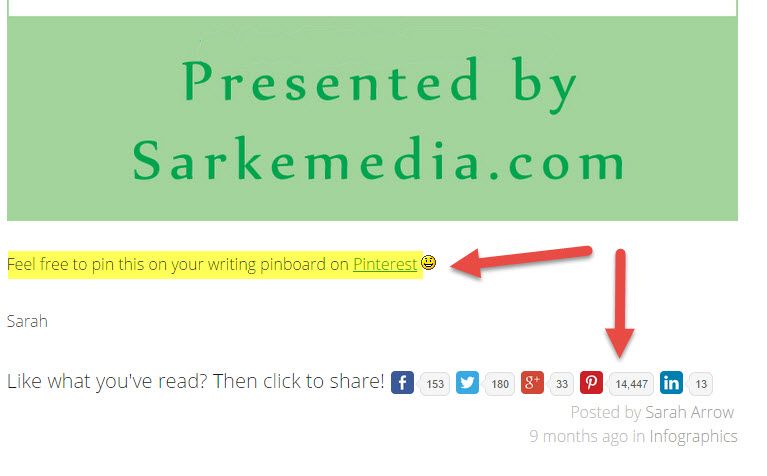 Infographics help your audience understand faster the information you want to provide them with. Whether you've written an article, a book, or are giving a presentation, an infographic can go far in helping your audience better understand the information you want to provide to them. Not only that; it can drive the story toward the direction you want to drive it so that your audience concludes without a doubt that your information is accurate.
But, an infographic has to be well made or it will make things worse rather than better for your audience – and for you. Here are some mistakes to avoid when designing an infographic.
Not Doing Your Sums! – If the numbers don't add up, they'll be even more noticeable when you use images. Ensure that the way you arrange everything means that the numbers add up. There's nothing like people focusing on your numbers being 147 percent instead of 100 percent. Even if there are reasons, the information will not be believable if the numbers don't make sense.
Not Using the Right Type of Chart or Graph – There are many types of charts, from 3D graphics, to pie charts, to stacked bars, line charts, and more. Use the right type to show the information you want correctly, without trying to trick the reader into thinking something is better than it is by the visuals you use.
Not Laser Targeting the Information – When you are trying to create an infographic, you need to narrow down the type of information that you want to provide. It's imperative that you don't try to convey too much information in one infographic. You might want to share 10 things, but only 5 sit comfortably. Go with comfort and remember you may be able to create more than one infographic out of any survey or group of data that you obtain.
Not Scaling Images Correctly – When you are using images to portray a value, it's imperative that the images you choose are proportional in relation to the number. Don't try to make numbers look bigger than they are.
Not Creating Compelling Headlines – If you want someone to click through to look at your infographic and to keep reading it, take the time to develop headlines that make people want to know more.
Not Using the Right Comparisons – Don't compare apples and oranges. Ensure that any comparisons you make aren't conflating two different things. If you do that, you'll confuse your audience – plus you might even turn them off.
Not Using Logic When Arranging Data – Arranging data in a logical way is important. For example, if you want to demonstrate something using a pie chart, put the colours of the pie in the order of size.
Using infographics can help explain tough-to-understand data, directions, and information that you have explained in an article, blog post, or white paper. The addition of an infographic that can work both with and without the text information will help you impart information in a better way; you just need to know the mistakes to avoid when designing an infographic.
10 Ways to Optimise Infographics For Mobile Devices
With 47% of people consuming content on a mobile device, it makes sense to optimise your infographics for mobile devices.  This is especially true if you want your infographics to be shared on social media.
 Limit the Length – Instead of making your infographics super-long, make them a little shorter and compact so that they fit on one average mobile device screen in the first place. That way everyone can look at it on their screens.
 Create Thumbnails – Thumbnails of the infographic will help with mobile, because it shows a smaller version of the infographic that can be clicked on to go to the landing page where the infographic resides.
Create Smaller Infographics – Instead of making super-big and long infographics, consider making "meme-sized" infographics that explain one point at a glance. These are perfect for sharing on social media.
Create Simple Layouts – Don't try to be too elaborate with your infographics that you want to be shared on social media. Instead, make them simple, converting just one topic so that it's easier to create without a lot of space.
Give Your File an SEO-Rich Name – Name the file something that tells the search engines and users what it is. Don't give it a generic name. If the infographic is about how to make ten outfits from the same three pieces of clothing, then say so.
Put Your Infographic on a Landing Page – One way to ensure that your infographic not only is shared across all social networks but also brings links to your website, is to create a landing page just for the infographic so that it has a home on your site.
Create Interactive Infographics – Use HTML, CSS3, media queries, and any other friendly interactive coding to help the design display according to device correctly. If you create a dynamic infographic, it'll work anyplace.
Know the Most Frequent Resolution for Platforms – That way you can design the responsive design to display the right resolution for various platforms, in the way that your audience wants to look at them.
Use Flexible Layout – You can use flexible grids to organize content so that it can be changed and displayed differently but still understandably on mobile. If you use relative width instead of fixed width, your infographics will look better on mobile.
Understand and Define Breakpoints – If you understand the breakpoints most systems have, you can design with that in mind, which will help your images look better. Target smartphone portrait mode, and use the right code to display the right size on the devices.
Infographics are an amazing way to give your audience information in bite-sized pieces that are easier to understand, due to the visual nature of an infographic. But, they will be shared most often on social media, and you, therefore, need to understand how each platform will view your infographic and how your audience likes to access your content. You can then design a responsive infographic that gets shared more and is understood well by your audience.
Have you posted an infographic lately?