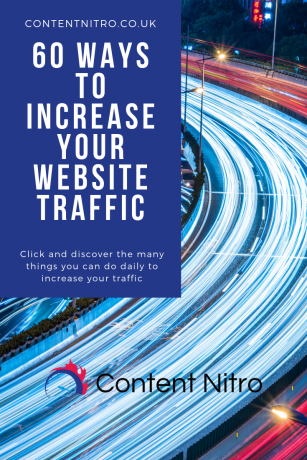 Want more traffic to your website? Of course, you do! This is the perfect post for you. Whether it's a high traffic blog or an eCommerce website, you need to remember that traffic isn't created equally, that some visitors are buyers and others are browsers.
If you have one hour a day, you can do a lot to double the traffic to your website. The best way to get more traffic to your website quickly is to add more targeted content, promote that content, and keep repeating the process.
Notice that targeted content is bold, that's because knowing your audience is of vital importance. Writing whatever you fancy, whenever you fancy isn't going to double your traffic, and if your business needs the leads, writing on a whim isn't a good marketing strategy. Not writing for your ideal customers will make your online marketing experience incredibly painful.
Many "tasks" on this list will not even take you an hour to implement. If you start at the top of the list and work your way down the list over a day or two, spending one hour each day, you can double your website's traffic. I promise. And to keep you encouraged, at the end of the post is a traffic generation guide in exchange for a share. Okay, you can scroll down and get it straight away. I won't tell if you don't ????
1. Add "alt" tags to the images on your website. Not only does this boost your usability factor, but it also helps the search engines understand your content better.
2. Add a plugin like Inline Tweet Sharer.  https://wordpress.org/plugins/inline-tweet-sharer/ Don't like this one? There are others out there that do a similar thing.
3. Create an FB group on the topic of your content and invite your readers to join.
4. Add deep links to more content on blog posts
5. Add more of your articles to an autoresponder series for new subscribers
6. Add an additional email to your autoresponder series linking to your most popular blog post
7. Add a new content upgrade resource to your website
8. Add to the FAQs on your website
9. Add your blog to Amazon or  the"send to Kindle" button
10. Answer comments on your blog – this is great for re-energising your community. Install WP LinkPress to gain traffic from LinkedIn.
11. Ask for shares, tweets, and likes in communities that you belong to. Remember to check and see if they have promo days.
12. Build a sitemap and submit it to Google Webmaster tools, or activate this section on your SEO plugin.
13. Comment on other people's blog posts (leave a comment at the bottom of this post and tell me what you'd add).
14. Create and run a Facebook advertisement, or boost a post to your audience
15. Create a cheat sheet for your audience to use and pop it behind a content locker
16. Create a Gravatar account so your comments and bio box look better   https://en.gravatar.com/
17. Create a poll on Facebook or with Survey Monkey and discover the inner workings of your audience's mind.
18. Create a SlideShow for Slideshare out of an old blog post (can't believe this post is 5 and half years old and people are only just discovering Slideshare).
19. Create and send out a press release to your local media.
20. Create your own blogging network
21. Curate other people's content on a topic of interest, remember to add your thoughts – they're what makes it truly valuable.
22. Curate someone else's content surrounding one topic and create a powerful resource that your audience will love
23. Go on a guest posting spree and grow new friendships
24. Ensure that your site is mobile responsive
25. Highlight and organise old blog posts surrounding a particular topic by creating a landing page for them
26. Host a teleseminar and share a powerful tip with your audience
27. Host a webinar and demonstrate your tips in action
28. Improve META descriptions on your website. Install WordPress SEO by Yoast or another SEO plugin, and start tidying up how your site's description is displayed.
29. Interview a client or customer via a Google Hangout. Publish the video and transcript in a blog post.
30. Interview an important industry person, a simple text interview or Facebook Live and then create a blog post with the content.
31. Join a content syndication network like Triberr
32. Offer a free eBook to your audience in exchange for a social share (see post on content lockers for more about this)
33. Add your latest blog post to your Skype Status update
34. Organise a targeted pinboard on Pinterest and pin the relevant content. Embed the board into all the posts you have on that topic.
35. Participate in online forums, remember to add a link in your bio, if it's allowed.
36. Personalize your 404 error page with a search box and a personal message
37. Promote your content on social media channels where your ideal customers are.
38. Check your RSS feed works
39. Newsjack an industry news story and send it out via email.
40. Search for other bloggers in your niche as well as influencers and build a friendship.
41. Share another influencers' content with your audience and explain why it's useful or important.
42. Search the hashtag for your topic and answer questions on the subject
43. Add a post to LinkedIn Pulse.
44. Start an expert panel series of webinars, hangouts or blog posts. Everyone loves a series, just ask Netflix
45. Ask for and then submit a guest blog post for publication
46. Tie a holiday into your promotional content. There's nothing like celebrating national beekeeping day or national tomato soup day.
47. Transcribe interviews to text and publish them. If you have a series, create a mini-book and add it to a post with a content locker in it.
48. Turn a fact-based data-driven blog post into an infographic, remember to pin it after you've published it.
49. Turn an older blog post into a short video, and then add the video to the blog post.
50. Freshen up an older blog post with new information and re-publish it emphasizing the newly updated area.
51. Update popular older content with content upgrades
52. Refresh the images on your website, swap them out for some next exciting ones, or seasonal ones. You're only limited by your imagination.
53. Update your Facebook page profile and remember to check your links on your page and your contact button works.
54. Give your Instagram profile a refresh and share your latest content in the link in your profile.
55. Update your Pinterest profile and verify your website for rich pins.
56. Give your profile on LinkedIn a makeover, and ask for recommendations
57. Use Canva.com to grab a quote to share on social media, remember to add your URL to the image, save to your phone and upload it to Instagram.
58. Use screenshots to make a how-to guide. I use snagit for this.
59. Write and publish a blog post that promotes your products / services.
60. Write one page of your next book and publish it as a teaser.
Remember you'll still need to promote the content that you create to get the maximum benefit from it. You can automate some of the content promotional aspects using a tool like MissingLettr. Getting more traffic to your website is as easy as being consistent with the content that you create, as well as the amount of promoting that you do for that content.
Create, distribute, promote and repeat is your winning formula.

P.S Some additional tools you might like to help you with your traffic generation include Market Samurai (keyword discovery) Thrive Leads (perfect delivery of content upgrades which means more traffic = better conversions). These are not "nice to have" but powerful tools that will help increase your visibility. Enjoy!