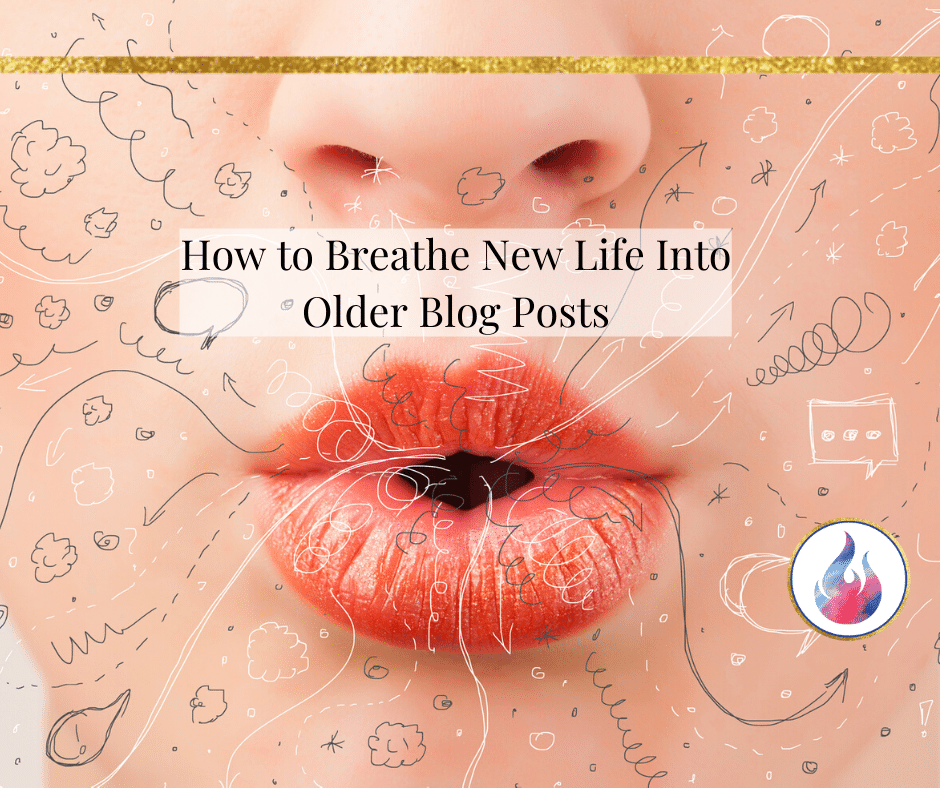 The wonderful thing about blogging is that your content is not carved in stone. You are not stuck with it forever like you are with something that's chiselled into a wall or on your back as a tattoo. This means you can go back and refresh your content when it's not performing, or it needs updating.
This post will explore how you can refresh your older blog posts and breathe new life into them. In some instances, you will find a little freshening up the post will give it a whole new purpose!
1. Determining Which Content Needs a New Lease of Life
The first place to start is your analytics. Look at the content that's not getting any search traffic at all. Make a list of these pieces of content.
Next, look through your list and see if there's anything that's topical. This means weeding out the opinion posts from 7 years ago about a TV show that no longer exists. These articles are unlikely to benefit from being refreshed. the best thing to do is unpublish them until you're ready to delete them.
Go through your shorter list and look at the content that you think will perform better in another format.  Highlight these pieces of content.
Now you have a very short list of pieces of content that can be refreshed.
2. Confirm There's Interest For The Content
Open up Market Samurai or your keyword tool of choice. Check that there's still interest in the keyword you've optimised your post for. If it's a topic that's no longer in fashion, then the numbers will be lower than your original research. Of course, no one asks you to remember what your original keyword numbers were, but Market Samurai will show you if the phrases are in decline. Is it possible you could breathe new life into the post with a different keyphrase? For example, if your original keyword was milkshake, could you rewrite the post so it's about vegan milkshakes? With vegan health becoming more popular you may be able to transform your content by targeting a new audience.  Any posts where you cannot change the keyphrases or target a new audience should be unpublished.
Once you've done this with all your remaining pieces of content you will now have a list. With the keywords you've chosen, type them into the search engines and see what the top 3 organic posts are about.
How long are the blog posts?
How many images are in the posts?
What type of content are the posts? Is it all text? Are there maps? Are other pieces of content embedded?
How are they different from yours?
What elements do they have in common?
None of this research is about copying the competitors. You may find your post is 300 words, but each of the posts in the best position is 1200 words long. You now know you need to expand your content. You can't pack it with fluff and fillers. Not only is that repulsive to read, but it just won't work. Look at what extra value you can add to the content
Interview an expert to add to the content
Add several expert tips and increase your authority by association
Elaborate on your own tips
Include a case study
All of these things add value to your content and increase your word count.
3. Refresh Your Images
When you look at the post you're revamping do any of the images date it? Was it published when clipart was a thing? Is it filled with I Can Haz Cheezeburger memes? If that's the case create a new branded image and add this to the content.
Do you have a lot of data in the post that would look better with some infographic-style images? Create these and add them in.
Add your signature and you're good to go!
4. Now you've breathed new life into your old post…
What's next? Add a note to the post saying "Originally published in 2015, refreshed and updated for 2020". Then republish the post under today's date. Lots of people think this is about tricking the search engines. Search engines are not stupid. Republishing it enables you to pull the content into your new content promotion systems. It's about making this easier for you to promote.
Google Fetch!
You can also log into your Google Search Console and ask Google to take a look at your new refreshed blog post. In the sidebar look for the crawl section. When you click this look for the section that says "Fetch as Google" click this and add in your URL.
You will be invited to choose whether you crawl only this URL (recommended) or this URL and the direct links.
When you've done this, you can now wait for up to 14 days for Google to take a look at your content and decide where it fits in the search index. Your work promoting the content isn't quite finished…
Email Your New Post To Your Subscribers
Once you've published the next thing to do is email the post out to your list and invite them to comment and share. Tell them it's a revamped post and you'd love their feedback. My audience often tells me they remember the original and this is better. Only one person said it was worse!
Add your post to MissingLettr and other promotional scheduling tools that you use.
5. Scheduling Your Content Updates
As you can see, this is a job that you can easily outsource. Just make sure your digital marketing support knows how to breathe new life into your older blog posts.