Have you ever wondered how to make an ugly URL look nicer? Prettier? Then this article is just for you. Although I share from an affiliate marketing aspect, cloaking links is also essential as a business owner.  When you make a link "Pretty" you're also able to get some extra data – like exactly how many people clicked that link, where it was popular and so on. I use a variety of link-cloaking tools in my business, but Pretty Links is my favourite.
What Are Affiliate Links?
Affiliate links are the links that are shared that may lead to the link's owner being compensated in some way. This link contains a unique code that identifies the affiliate (you) to the merchant (the business). When a customer clicks the link and performs the required action (purchase, install, call, etc.), the affiliate receives a commission. The link contains important information, so it can be long, cumbersome, and vulnerable to 'hijacking'.
Link Shortening vs Link Cloaking
Link cloaking tools like Pretty Links allow you to make the URL more compact, visually appealing, and easier to remember and share. Pretty Links also protects your links (and, in turn, your commissions and income) from disreputable marketers who use link hijacking scripts to scan the Internet for links that originate from an affiliate marketing network. If found, the script will replace your link with the marketer's own affiliate link. Link cloaking tools like Pretty Links also allow you to brand your URLs and use your own domain name in the link.
Pretty Links is a plugin for self-hosted WordPress sites.
Link shortening tools reduce the length of a link, but the link often isn't memorable, is unprofessional, and doesn't provide clues about the product you are linking to.
What a Typical Affiliate Link looks like:
https://thearrows–checkout.thrivecart.com/thrivecart-standard-account/ or https://thrivethemes.com/affiliates/ref.php?id=55
Neither of those examples are easy to remember!
Why You Should Cloak Your Links
The link isn't immediately identifiable as an affiliate link (nothing wrong with that, but you don't want to have your links "stolen")
It contains the merchant website information – not yours. Link cloaking is a way of increasing brand recognition.
It isn't clear to the potential customer what the product is
It's easier for you to track when cloaked
It's easy to remember and you can verbally say the link when you're interviewed or talking on Clubhouse
Links Shortened on a Site like Bit.ly:
bit.ly/76E39r
The link is shorter but the product is still not identifiable
Your domain name still isn't in the link
These links do not look professional, and in the past, they've been dropped from sites like Facebook.
Benefits of Using Pretty Links:
Hides your affiliate ID and helps prevent hijacking.
Allows you to include a brand name and use your own domain name in the link
Does not negatively affect search engine optimisation
Tracks each click on the URL and makes available a detailed report of where the visitor came from, the browser they used, etc.
Step-by-Step Guide to Getting Started with Pretty Links
Purchase a Pretty Links subscription plan (Pretty Links Pro) and install the plugin in WordPress (there is also a free version called Pretty Links Lite if you just want to try it out).
Pretty Links will appear in your WordPress dashboard. Click on this tab and select 'Add New Link.'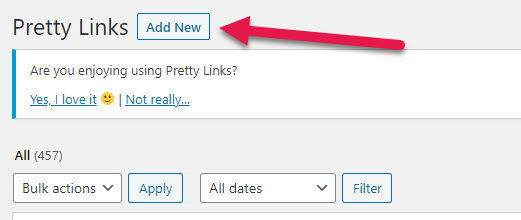 In the AddLink screen, go to 'Redirection' and from the drop-down menu, choose what type of redirect you want.

Your two options (for now) are either:
Redirect 301 (permanent) – use this if you are confident the link won't change and you want to pass on "Link Juice" to the site you are linking to
Redirect 307 (temporary) – this type of link tells search engines that it is possible that this redirect will change in the future.
(NOTE: You will see 'Cloak' in the drop-down menu. Even though it seems like the obvious choice – do not select it! The term 'cloak' is used in two ways when referring to links. The type of cloaking more typically used by affiliate marketers, the one addressed here, is Link Shortening with Redirects (301 or 307). The 'cloaking' option in the Pretty Links drop-down menu refers to Target URL Masking. This hides the URL from the visitor completely, so that they can't see it in their address bar, even after clicking your link. Most merchants do not allow affiliates to use this kind of cloaking).
Paste the link you want to shorten into the Target URL (marked "a" on the image below)

Next, edit the slug in the Pretty Links field (marked "b" on the image above). Give it a name relevant to the product or brand you are linking to. You can also incorporate your keyword/keyword phrase and this will help improve your ranking on the search engine results page.
Select update / publish and you're good to go!

Affiliate Link Cloaked by Pretty Links:
www.yourwebsite.com/featured-product-here
The link is shorter and more visually appealing
It uses your domain name and clearly identifies the product in the 'slug'
The slug contains your keyword/keyword phrase and improves your ranking on search engine results page
More to Pretty Links Than Meets The Eye!
As I've the Pro edition of Pretty Links I can do a few more things with my links. Here I've clicked the "Advanced" settings.

In this section of Pretty Links, I can choose if I want the link to be "NoFollow" or "Sponsored". I can even ask it to forward parameters from other areas of my site. I've never done this so I've no idea how effective that part is. That said, Pretty Links is brilliant at all the other things it does, there's no reason why it wouldn't be brilliant at Parameter Forwarding. You can also activate link tracking, I have this on all the time. From time to time you might want to turn that off, so it's handy to know where you can do that.
Pretty Link Pro

Part C is to add your tracking pixels. You might want to add your Facebook pixel here if you are interested in showing an ad to the people who click the link. This is a more advanced aspect of affiliate marketing (and marketing in general) and you might not want to use it straight away.
The last part of Pretty Links Pro is pretty special. If you create content on a regular basis, you'll know that you need to link to your own content (internal links) and to resources and relevant data etc (external links). It's very easy to forget the internal links not add them at all. If you look at the section where Arrow B is pointing, you can add a keyword here, and then the URL and wherever that phrase appears in the text, Pretty Links will hyperlink it to the links you associate with that phrase. Clever, eh!
You can also allow links to "expire" (arrow A) and redirect to another page. This is very useful when you're launching something and the price increases / cart closes on a certain date.  In the image below I've ticked the boxes so you can see the next stage:
As you can see on the above image, you simply add the date of expiry and the time. When you click in the date box a calendar pops up, and you can time it to the minute!
Then all you have to do is add in the new URL to redirect people to and then click update.
The last aspect of Pretty Link Pro I'd like to share with you is the import/export feature: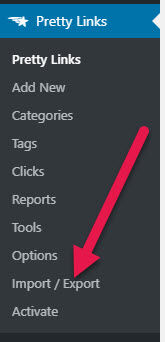 You can find this setting in the sidebar of your WordPress dashboard. I recommend once a month you export out all your Pretty Links in a .CSV file and add them to your back-ups. Whether you are using Pretty Links for redirects, or Affiliate Cloaking, or just tracking your clicks, you will quickly accumulate a LOT of links! If your site gets hacked, or you move domain… That's a huge issue. By exporting out a file of your links you always have a copy  just in case. When I moved domains I inadvertently wiped out 1400 Pretty Links that I use in my books, my emails and everywhere else. Fortunately, I had a copy of the old site on a demo domain and from there I could export my Pretty Links back into the site I thought I'd lost.
Are there any downsides to Pretty Link Pro?
For a while, there was the school of thought that anything that linked anywhere automatically would inflict the harshest of search engine penalties and the world would end. It was also pointed out if that was the case plugins that add related posts to your content would cause a problem too. Like most things in life, if you act like a loon when you have something powerful in your hands, then this isn't for you. Most people are sensible and do not attempt to link every third word in their blog post to something.
I hope you've found this post useful, and if you like Pretty Links you can rest assured they look after you well. I've had one or two issues (couldn't set up the .CSV file correctly) and they've responded really fast and courteously  -it was totally my fault it didn't work.
You can grab your copy of Pretty Links Pro here https://www.contentnitro.co.uk/PrettyLinks, please note I'm a proud affiliate for this product and many other smart marketing tools. If you decide to buy through my link, I'll be given a small commission. I'd love to say that it will be enough to retire to the Caribbean on my own island, but there's always someone who doesn't "get" my humour and thinks it's true!
Give Pretty Links a whirl, we know you'll love it!