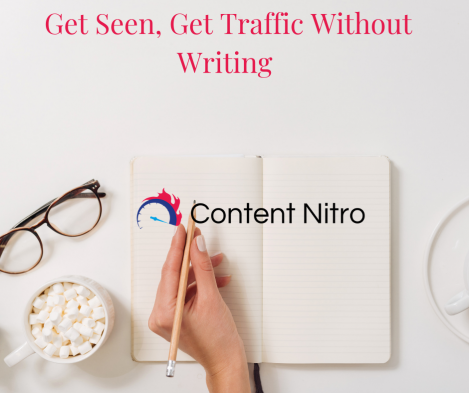 Does the thought of writing leave you cold? Would you rather bathe a rabid cat without any protection? You're not alone. In fact, if you ask most any online business owner what their most dreaded task is, blogging will likely rank right up there with cold calling on their most hated tasks list. With few exceptions, most people simply do not like to write, so they find any excuse not to do it.
And as you can imagine, their traffic suffers for it. The good news is, if you hate to write or feel you're just not good at it, there are plenty of other ways to create content on a regular basis without putting your fingers to a keyboard (much). This article is part of the Get Seen, Get Traffic series. Parts I, II, III, IIII can be found here.
Crowdsourcing Content
Ask in a community for tips on a topic. Add the tips to a blog post. Remember to recognise the people who've given you the tips by adding their name and their website link (if they have one). There are plenty of people who say "I asked on Facebook and here are everyone's answers". Not only is that thoroughly bad manners, but it's also a form of content theft (these people could really do with some content marketing training, so send them my way). Acknowledge your sources and they're more likely to share the post, plus you'll get more traffic.
Interview people. Write up a list of questions and ask people your audience will be interested in to answer them. When you have the questions completed, publish them on your blog. Think the same set of questions will be boring? Take a look at Desert Island Discs, 80 years and 3,000+ episodes later it's showing no signs of slowing down. The big question in this is "What discs would you take to a desert island?". The same question for 80 years. People love familiarity and diversity, and this gives them both.
Ask for guest posts. Ask your audience for content. Of course, if you're the host you have to do the promoting, but if you make your guest posting opportunity valuable enough then people will take you up on your offer.
Audio and Video Content
Podcasting and video blogs are more popular than ever, and they're perfect for those who don't care for writing. If you think grammatically incorrect writing is an abomination, wait until you hear people speak 🙂
With either type of content, all that's required is you, sharing your thoughts. You don't have to do anything as involved or complex as interviews, and you certainly don't have to hire a studio for a day to record a series of "professional" videos.
You can create podcasts and video blogs with nothing more than your laptop with its built-in camera or a headset and Zoom. Just fire up your computer and share your thoughts. Don't worry about perfection, your visitors will love a chance to see the real you!
Curate Content
If you're like most people, you very likely share a variety of content on your social media accounts. You point out articles you've read, videos you've enjoyed, infographics that explain a complex idea in a simple way. It's part of what makes social media fun and informational.
But what if you took your sharing one step further, and posted your thoughts on your blog first, before linking on social media?
The result of this curation technique, where you add your opinion with a link to the original article or video, is that you drive traffic to your site rather than someone else's. Not only that, but it gives you more opportunity to start a conversation with your readers about the content you're sharing.
If you're not a wordsmith, creating content can seem an overwhelming task. Rather than giving up and letting your blog languish, explore some of these ways to create content your readers will enjoy and share.
Crowdsource, Video/Audio or Curation? Which one will you try?