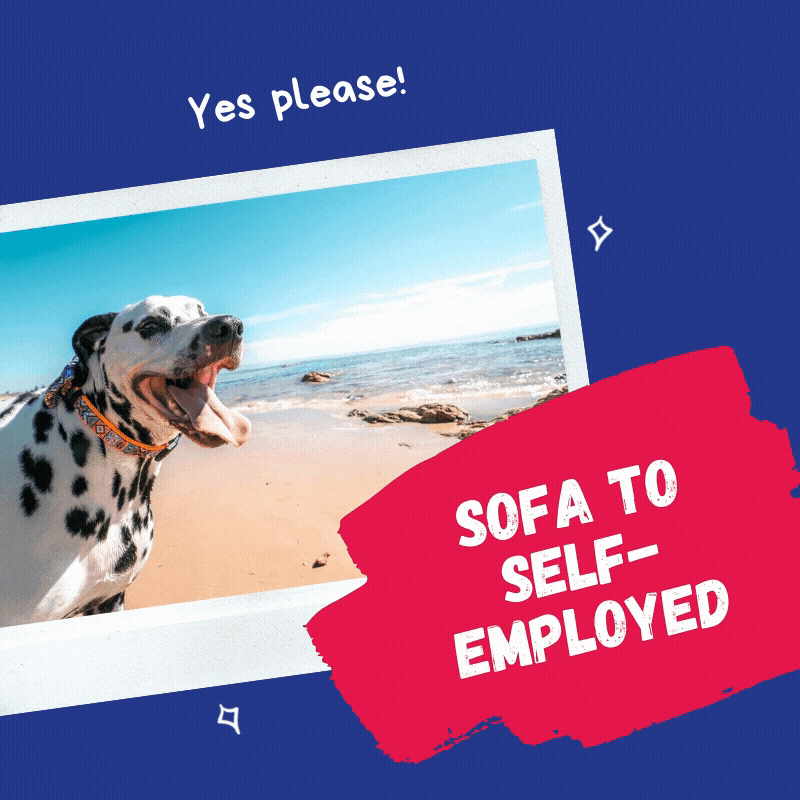 Once upon a time, making a decent living meant getting a 9-5 job, working 40+ years and retiring at the grand old age of 65 with a nice pension.
Today, your career path is not so defined.  Although many people still follow the well-trodden traditional path, more and more people are wanting to live life according to their own terms.
They want a role that provides freedom and flexibility to create their own schedule, make their own hours and break through the glass ceiling when it comes to income and opportunity for advancement.
They want to be location independent and work from anywhere in the world.
They want to do work that they love.
They want to make an impact.
Does this sound like you? With today's technology, all of this is possible – you just need to open your mind and think creatively around the possibilities. Here are 10 fun ways to make a living without popping a toe over the threshold of the stuffy old office!
Virtual Assistant: The first way to make a good living while working from home is to become a Virtual Assistant or VA. There are entrepreneurs and online business owners everywhere who need help with administrative daily tasks such as bookkeeping, content creation, answering emails, preparing reports and taking calls just to name a few. You don't need a ton of money or experience; you just have to be clear on your current skillset and decide what type of services you want to offer. Note where you need the training to polish those skills. There are several freelance sites like Upwork and Fiverr where you can list your services, or you can create your own website along with a social media presence. By having your own site, you can showcase the services you offer along with rates and eventually, testimonials from happy clients. It takes some work and determination to network and create a client base, especially at first, but being a VA will give you freedom to create your own schedule and live life on your terms.
Design Websites: More and more people are taking their lives and businesses online than ever before – and they need websites. Not everyone is experienced enough to create a website that showcases their vision, so they need help. That's where you come in. The first step is…. knowing how to design a website. If you've already got the skills, you're ahead of the game and can start networking to build your clientele through your own blog and website. If web design has only been a theory up until now, don't worry. There are plenty of online courses where you can learn the skills necessary to get you on the right path. Along with web design, there are plenty of other services you can offer to increase your income as well, such as logo design and website maintenance to name a few. There will always be up and coming bloggers and businesses popping up all over the place, so web design is a great place to land if you want to make a good income working from the comfort of your couch.
Affiliate Marketing: If you've never heard of affiliate marketing, it is simply the act of promoting the products of other people or businesses and earning a commission off of each sale. You find products that you like and support and attract potential customers through your blog, social media posts, YouTube videos etc. Your job, as an affiliate marketer is to convince buyers of the value the product holds. You don't want to be scammy about it and start promoting things you haven't tried just to earn a commission. Instead, look for products that you already use, like and support and start spreading the word about them. It's not an overnight process, but with some dedication and effort, it is very possible to turn this into a "make money while you sleep" type job. Look around at items or services you already use. It can be anything from clothing, makeup, online courses, books you've read, etc. When it comes to affiliate marketing, the options truly are limitless.
Transcription: This is a great option if you have high speed and accuracy while typing and you know a thing or two about grammar and punctuation. A transcriptionist is someone who listens to recorded audio files and converts them into text. These audio files can be anything from interviews to work meetings to YouTube videos to church sermons, so you get a variety of work without getting bored. Even if you have little to no experience, you can still get started pretty quickly in this field. There are several companies that hire beginner transcriptionists such as rev.com and transcribeme.com. They will require you to take a short test before accepting your application, but the whole process is usually pretty easy. You can also start your own transcription company although it may take a little more time to build your clientele unless you have a huge network already. Either way, transcription is a great route to go if your attention to detail is on point and you want the benefits of a flexible schedule.
Sell on Etsy: If you're a maker at heart selling on Etsy might be a perfect place for you to set up shop. Etsy is an online marketplace where you can sell unique items – anything from jewellery to t-shirts to stickers to birthday or wedding invitations. Setting up your account is simple, and you can get started quickly. As soon as you have a few things to list you can start sharing your link to family, friends and anyone in your network. You don't necessarily have to have a website or a blog outside of Etsy, but it could help to direct traffic to your shop if you post consistently and continue to make people aware of what you've got to offer. Selling on Etsy is cost-effective and won't break the bank or eat into your profits too much. The only downside for a new seller is that there is a lot of competition so getting started might be slow at first. However, with some hard work and determination, you can set yourself apart from the crowd and gain loyal followers who will return time and again.
Start a YouTube Channel: If you've got a message to shout out to the world, YouTube is a great way to do so. The best part? You can actually make a pretty significant income vlogging about your life and your interests. With that being said, while starting a YouTube channel is simple, it's not going to be an overnight success. You have to work your way up to a certain number of views and subscribers before you can start making some real money through ads, merchandise, paid partnerships, etc. The best way to gain a following is to niche down to a topic that is super-specific. For example, vlogging about your life as a mom may gain you a following but it will be slow going, just because mommy vloggers are a dime a dozen. You really have to stand out to be seen. However, if you start vlogging about your life as a mum while effectively homeschooling 6 kids, your audience will not only be more specific, but there will be certain people actively searching for what you've got to say. YouTube is a perfect way to showcase your creativity while documenting your life and help others with their pain points at the same time.
Online Tutoring: If you enjoy teaching and want to make an impact while working from home, online tutoring is the thing for you. Not only is this one of the most flexible jobs you can have, it can also be extremely profitable as well. The education field is filled with opportunities where individuals can make money teaching and tutoring students and adults in a variety of subjects. You may end up helping someone overseas learn English as a second language or prepping a student for an upcoming SATs test. There are several companies out there to help you get started. One thing to keep in mind is that many of these jobs require previous experience and/or a bachelor's degree. VIPKid and Skooli are two popular sites that you may have heard of. You can start here or go a different route and check out a job site such as Flexjobs which will post current tutoring positions available as well as the necessary qualifications. This is a great way to make a huge impact on someone's life – no classroom required.
Create Online Courses: Online course creation has become a booming business over the last few years and it's definitely here to stay. These days, everyone is searching for ways to add to their knowledge base, learn new skills and try out new experiences. This thirst for information and learning is a great opportunity for individuals, like yourself, to share your own knowledge and get paid while doing so. The great thing is, you don't have to be an expert to start creating your own course today. You simply need to know more than most people on a particular topic or two. For instance, maybe you are really good at paint pouring or spray paint art. Maybe playing the guitar or writing songs has always come easy to you. Maybe you love baking bread or gardening or decorating your house. We all have skills and talents and knowledge that needs to be shared with the world – just because you're not "THE" expert in the field doesn't mean you can't make a killing sharing what you do know. It's the perfect way to share about something you already love and make money while doing so.
Sell Your Clutter: This may be the best go-to option for quick, easy money. Take a look around your house and see what is taking up space. Do you really use that old treadmill in the basement? What about all the clothing you haven't worn in 6 months or the extra tv that's collecting dust in the guest bedroom? The exercise bike that doubles as a wardrobe? Be honest with yourself about the things you truly need and rid yourself of the rest. You'll feel a whole lot lighter when you declutter your space of unnecessary items and only keep what's truly important to you. The whole process is super simple – snap a few pictures, add a description and price and you can quickly list your items on local places like Facebook Marketplace. You can also try your hand with sites like eBay where shipping will be involved. Either way, you'll be cleaning house and making some extra cash in your pocket. That's a win-win in my book.
Baking: If you love making sweet treats for your family or simply have a knack for kneading bread dough and creating something beautiful, starting a bakery out of your home could be a profitable path to take. Let's face it – you already have the kitchen in your house and the cooking smarts to back you up. Now you just need to decide what you enjoy baking the most and put your own unique twist on your goodies to make you stand out from the rest. Cookies, muffins, pastries, pies, brownies – even dog treats – are in high demand and if you're willing to bake them, the market is willing to receive them. The downside is, competition can be high, and you'll need to check with your local laws to make sure you follow guidelines when it comes to baking and selling those items from your home. Starting out, it would be smart to focus on one or two items and build up from there once you get more settled and learn the ins and outs of a baking business. If it's something you truly love, sticking with it can bring a pretty sweet payoff in the long run.
 The options truly are limitless when it comes to the ways you can make money from home. However, that doesn't mean it's a get rich quick type scenario. Many of these work at home options take time, effort and dedication to get the most benefit, but then anything worth having takes a little work. The payoff is that you'll be able to create your own schedule and have the freedom and flexibility that most people only dream of. The best part? You'll be able to ditch the idea of a typical day job forever and live life on your own terms.