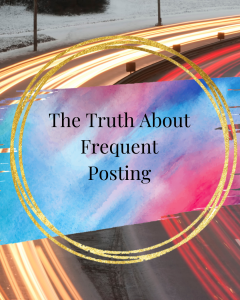 I created my first 30-day blogging challenge back in 2007, and then run them privately for clients until 2014 when I made them public again. Every time someone joins the blogging challenge the same questions and answers appear, and they're all based on opinions and half-baked lazy research rather than evidence or heaven forbid… facts.
In this post, I'm going to share why blogging challenges are good for you, and the truth about frequent posting.
In a previous post, I shared a lot of reasons why you shouldn't bother with a blogging challenge. I liken it to running a marathon and not a sprint.
This is the post I use to recruit participants for my blogging challenge. I point out that it's not a lame-ass pretend to blog for 30 days and in that time get one blog post out… I point out that you're expected to publish for 30 consecutive days. Even if it's Christmas, even if your birthday, even if it's a Sunday. If this scares you into paralysis, then you won't sign up and waste my time or energy.
A huge set of data to work from. I'm quite often asked things like what is the best time to post and how long should a blog actually be, and the correct answer is right there, in your analytics. However, most business bloggers only post once a week, or once a month, and that doesn't give them enough content or data to work from.
 You'll find you discover and keep your writing voice fresh. When you write on a regular basis you'll hear your voice more clearly
You'll find you have enough material to develop a book or a product. There's a reason why I recommend the from blog to book program at the end of the blogging challenge!
You'll have more of your own content to share on social media, and you'll know what to share and where to share it.
Your writing gets better when you increase the frequency. As in YOU become a better writer. You start to care about your content and start or develop your writing skills further.
You love the way that writing helps you structure and analyse your business – you start asking yourself better questions and meeting the needs of your readers more easily
You'll find it easier to generate ideas for your blog posts that connect with your readers
You'll get faster at creating your content, and you'll know from the data you have what your readers really love.
You'll build up massive momentum, and you can ride the wave long after your 30 days!
You'll stop finding excuses not to do something and start to enjoy your increased visibility
That's right, it's just 30 days of frequent posting!
The 30-day blogging challenge gets you into good blogging habits, fast. The year contains 365 days, and 30 days of consecutive posting is just 10% of that. No one is telling you that you have to publish daily for the rest of your life, unless you're in a fast-moving niche. Fast-moving niche? What's that??? That's fashion, film, technology, music and celebrity gossip. Blogs in these niches post multiple times a day.
You'll find specific business industry blogs post on a daily basis as well. Along with the news channels, traditional media, and glossy magazines. If you compete with any of these types of site, and want to capture a share of the audience, then you'll be blogging more frequently than one post a day.
If posting more than once a day was bad for you, then LinkedIn Pulse and other places would only allow post once a day, as in one person publishes one post for the entire LinkedIn site. It's not bad for you, or for the site where you upload your content to publish on a regular basis.
The simple truth is that many big sites publish daily because of the positive benefits of frequent posting.
Those that post frequently for the blogging challenge have seen
More search engine traffic (as high as 50% in some instances)
A significant increase in subscribers (as low as 40% and as high as 487%)
1300 additional  likes on their Facebook page (all from a sidebar widget)
JV partnerships (12%) and new friends (63%)
A better understanding of blogging for business
An upturn in inquiries and positive discussion about their business (54%)
Their fans and followers have a better understanding of what business they're in (78%)
Please note, I've edited to add these stats in, and they're based on a graduate survey undertaken in 2014.
Do you know what's hard about frequent posting?
Doing it all by yourself.
If you're an entrepreneur without a team around you, then blogging daily is hard.
Not having any discipline in how you market your business makes daily blogging unsustainable.
Not having an editorial calendar makes frequent blogging incredibly difficult, I know because I managed 19 months of daily posting without one. I managed another 2 years with one, and it took me two weeks of solid writing to create a year's worth of content and then schedule it.
Not knowing what your audience likes or even who your audience makes frequent posting very difficult
Not being an expert at what you do, makes creating strong content virtually impossible
And all of the above are very good and valid reasons not to blog on a daily basis.
If you're not that great a writer, and the majority of us aren't, don't kid yourself that posting frequently is going to somehow damage you or your site. It won't. Knowing you're not good at something puts you in the position of wanting to improve at it, or deciding not to. You can't make that decision when you're busy making excuses.
True or False: Frequent posting annoys your followers
I'm often told that frequent posting annoys your followers, and you shouldn't do it in case you annoy them.
If frequent posting annoyed your followers why would you be instructed to "promote, promote, promote"?  If frequent posting irritates your fans, how do you think they'll take to constantly having the same piece of content thrust down their throat?
Bloggers with a course or training program to sell to you will tell you that you need to create less and promote more. They're telling you what you want to hear, and you should recognise it for that.  Because to your fans and followers constantly promoting the same shizzle is MORE irritating than fresh content or a new take on an old problem.
Often business bloggers have several customer avatars, and to write one piece of content that appeals to all of those personas isn't possible. It means the content is a mess, and it appeals to no one (let alone your ideal clients).  Frequent posting is a way around this, and your audience quickly identifies what content is for them, and what content isn't.
Also, contrary to popular belief, our readers have lives of their own. They may consume content via email or by a feed reader, and consume it in a manner that suits them. They will not be sitting around drinking cups of tea and eating Jaffa Cakes until you hit publish and then be hacked off as it's on a topic that's unappealing to them. Readers can identify the content that's for them through the headline – that's why specific headlines convert better than generic headlines.
When you get blogging advice, ask yourself does the blogger who is sharing it follow their own advice? Or do they do something different? Are you getting a conflicting message and therefore selecting only the message you wish to hear?
Posting frequently destroys the quality of the content
As it appears this post is now somewhat controversial, I'll just come right out and say it. Quality content is subjective, and saying posting frequently is somehow destructive to the quality of the content itself is sheer lunacy.
The majority of bloggers do not create quality content to start with.
They don't riff off of other people's ideas and expand the knowledge of their readers. They copy and fail to quote other bloggers saying the same thing as proof of the point their making.  Expect to see a slew of content around posting frequency with my thoughts and opinions passed off as the post's creators own rather than link to this original piece, all of it grammatically correct masquerading as quality content. It's not their fault. They've not been shown the right way to blog. Maybe this is you, I know it was me back in 2006.
We all know there's nothing new under the sun, and I am without a doubt not the only person talking positively about frequent posting, but what you get in this post is the insights from training over 10,000 bloggers how to get more from their business blogging. You get real-world experience, you get facts based upon mine, my subscribers and client's experience.
Quality content has many components, and once you have those in place you'll find the structure means creating quality content on a daily basis is possible. You might not love it, but it's possible and the more you're familiar with it, the easier it becomes. Complete mastery of a task makes it look effortless and easy, don't compare your starting journey with the other bloggers ending.
Blogging as a form of procrastination
If you have a business, a real one and not a pretend one where you look out of the window and imagine the customers beating a path to your door, then blogging can become a means to avoid doing some real work. I know. As I type this I'm meant to be editing the FB Live book for this weekend's launch, but this post was itching to get out of my head…
When you get a business coach, the first thing they will do is eliminate time sucks and re-focus you on your income-producing activities. That might mean making more phone calls, sending more emails and upping your advertising budget and doing more of it. Your business coach will not audit your blog, and tell you what to cull and what content to create to generate leads. They'll tell you to stop blogging. And you will stop blogging and marketing your business on your own site because it suits you to follow their advice. If you think blogging itself is a business rather than a tool to generate leads for your existing business then you should indeed stop. Start blogging again when you have a business and you want your content to do your marketing for you.
Know What Those That Condemn Frequent Posting Are Selling
And I promise you it's not the concept of more time to do the things you love, but their program, and that doesn't involve you writing blog posts and attracting in clients. Hell no! You need a high-falutin', high ticket program to show you that! If someone doesn't recommend blogging on a frequent basis (I define frequent as more than 3 times a month), then you have to ask yourself why.
I know some marketers have disabilities that make writing blog posts hard. They don't blog as it causes them pain. They do anything other than blog, and they will sell you programs that do not involve updating your blog whatsoever simply because they don't do it themselves. There are those that are fanatical about Twitter, and live on there – chatting and connecting people together – networking. They don't blog as they prefer to have all their business conversations on a 3rd party platform they don't own.
Now, there is nothing wrong with any of the above, but you have to know their motives when they condemn posting frequently on your blog. A good coach will assess you correctly and help you weigh-up what you need to do. Very few will advocate building your house on rented land; digital share-cropping. If you get onto a "discovery call" and talk through your options, be prepared to have your digital assets such as your blog condemned without discussion. It's easier to sell you a package that you don't want or need rather than guide you to get your message across to the correct audience at the correct time in their buying cycle.
I do my own blogging challenge twice a year.
I publish on average 150 posts a year, and 60 of those come via the challenge, in two 30-day bursts. I've blogged steadily for 10 years, I've powered my way through writer's block, blogging in a tough niche and creating content when I've had no audience. I've been around the blogging block, and what never ceases to amaze me is how human beings find excuses to justify their inability to move from their comfort zone.
Don't be one of those bloggers. Sure, you're welcome to try the 30-day blogging challenge, you're most welcome to come into the group and share your content and your goals with us, but don't make excuses not to do it. There's enough of those people out there already, and you don't strike me as the sort of person to follow the crowd.

P.S I've not even touched on the psychological benefits of posting frequently – also known as "showing up" aka the exposure effect. The person that shows up is seen as reliable and more approachable than the person who possibly has a better work ethic, but never shows up. Think back to your familial relationships – you love the uncle who comes over regularly to have a beer with your dad – more than the uncle that's always at work. One shows up, one doesn't. It never crosses your mind that the one at work has better priorities, you like who you see more of. Your customers need to know that you're reliable and that you show up. This matters more than the perfect blog post that you post once in a blue moon.