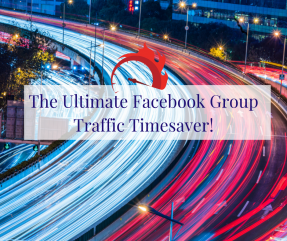 Did you know there's a fast and easy way to create a Facebook group traffic that will help you nurture more of your leads and sell more of your products? This post will show you how to group and nurture your Facebook group, build a back-up email list AND not upset anyone in the process! Are you ready to build an engaged community using Facebook?
You will need the following tools- Start here:
And a social locker tool  – WordPress / Non-WordPress (see further down)
The first step in your Facebook Group Traffic 
Set up your Facebook group. It should be a closed group so you can foster a sense of exclusivity easily. Add a group header image. You can create on Canva.com I recommend adding a photo of yourself as well as your logo. You want people interested in your group to see that you're a warm and approachable person.
Choose the type of group –  I choose general.
Connect your group to your Facebook page.
The second step in your Facebook Group Traffic 
Connect to Group Convert. This nifty piece of software collects the email addresses that people add into the group and adds them to a spreadsheet. You can then import the spreadsheet into Active Campaign, or another email program.
Remember to ask for consent, and remember to keep the spreadsheet so you can track where the consent for GDPR came from if you ever need it. I have mine in a OneDrive folder for safekeeping.
The third step in your Facebook Group Traffic 
Write a list post packed with resources. One of those is my free Facebook group, and I recommend that you add yourself to your list of resources too. I make sure the audience can identify themselves from the headline, create a branded image for Pinterest and optimise it for social media as well as making it search engine-friendly.
When I have 30 or so interested people I approve them into the group. Facebook gives you the tools to batch welcome your new community and to tag the members. Here I remind them to watch the welcome video, and I share what they can have as a subscriber
What lead magnets work best? I usually send them to a post with a social locker to increase visibility. These posts are the kind of post that ask you to share to unlock the gift, my audience loves checklists and these lend well to promoting an online course. Because I pay for the social locking tool, I can give a gift to my new subscriber, but the URL that they share is to my Facebook group – a magical viral traffic loop.
The next step is to nurture the new community and let them get to know us. We want our community to be excited and engaged with our best quality content. We want to talk about the problems our community have, and how our course can help them. You can share screens and show your training skills as you livestream. I use Streamyard for this.
I love that Streamyard makes it easy to share screens, that I can change the screen layout and that I can have a lower third that's easy to customise.
When you have a few people on your email list, start sending a weekly digest about the questions in the group. Send links to videos that you've done and ask them to vote in polls. You can increase engagement very easily using the emails, and you look like the great community leader that you are!
Why don't more people do this to build their Facebook group and drive engagement?
There's a lot of people who'd like to detach themselves from their potential customers, for a number of reasons. They could be shy, or introverted. It could be they prefer to run ads to their group than create content that converts.
They may think they're time-poor, or they may think they don't know what to say or how to say it.
The most common reason is the easiest one to fix – they don't know how to set the system up! If you want us to do it for you, book in here.
I know from experience that quick 10 minute daily videos will help you sell more and Facebook groups are perfect for this. What would you be able to share in 10 minutes that would grow your audience and have them excited to work with you, or take a course?
The last tool that I want to share with you is time-sensitive and it's all about crossing the streams https://www.leadslaunchleverage.com/restream I love this tool because you can chat across multiple platforms and so can your viewers – it's fantastic for helping you nurture and grow your community.
So there you have it! A simple system to build your email list using Facebook groups, build and nurture your community and talk to them no matter where they are!
Enjoy this fast and easy way to sell more, create an engaged community and ensure you have a steady stream of people excited to get to know you.