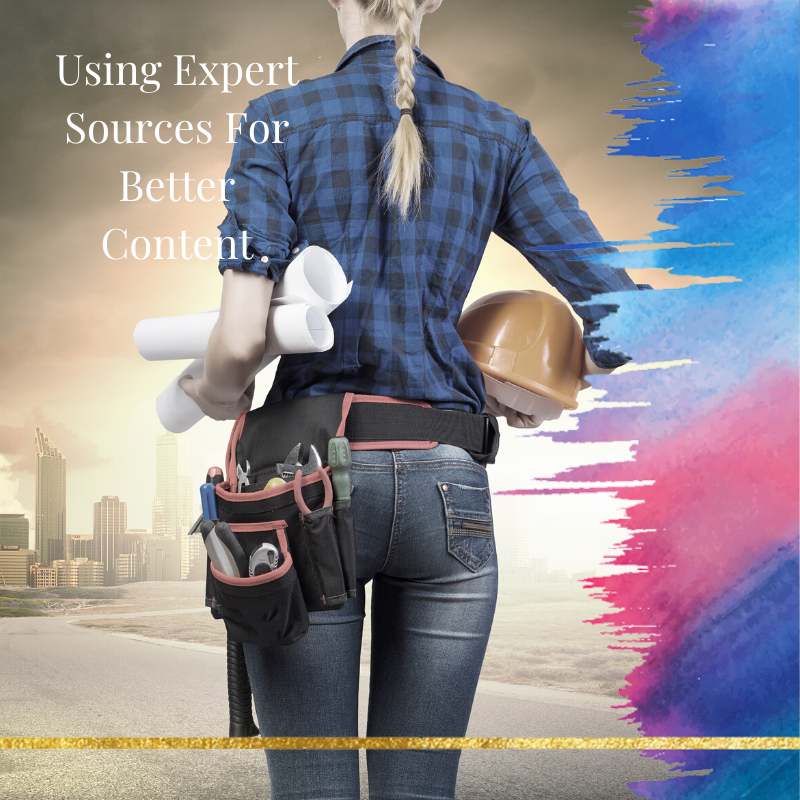 I often write about creating better content. Content that's more valuable for your reader and helps them make informed decisions means more trust, more authority and more customers.   I'm going to explain how as a content creator you need to use some basic journalism skills to create better, authority content for your business and avoid accidentally plagiarising someone.
How do magazines, newspapers, and other media conglomerates tend to produce well researched and unique content on a regular basis? Think about that for the moment before I share the answer and sources with you.
Content writers for the web are able to search to find similar information, but more often than not they are getting their information from other websites rather than the source of information.   In other words, web content for article writing can be incredibly incestuous and misinformation, fake news and wildly inaccurate content gains traction because of sloppy content creation skills. They're plagiarising plagiarised content… Don't be that kind of content creator.
You will be found out. Your readers are not stupid. If Marie Forleo talks about Imposter Syndrome and her top 3 tips are
Believe in yourself
Separate your feelings from fact
Do the work
You read that article and decide you will do your own imposter syndrome article with 3 tips… And your 3 tips are
Separate your feelings from fact
Believe in yourself
Do the work
All you've done is switched the original content around. You've plagiarised someone. And no, Marie Forleo has not shared these 3 tips, I pulled them out of thin air. Your readers who follow the both of you will know you've ripped off Marie. They won't like you so much once they have this epiphany.
When you read something you absorb that content, and your brain may let you think it's your own content when in fact it was someone else's!
It's time to stop step off the hamster wheel of echo-chamber content and start creating content with authority that's uniquely yours.  If you are a regular reader here you will know that I am an advocate of citing your sources of information. Not only does it demonstrate how well-read you are, and how you understand information, it also protects your reputation if the source is inaccurate. You really don't want to be the next Jay Shetty.
Start with citing your sources in your blog posts. This simple technique is used by journalists worldwide. If someone you admire writes a post that inspires you then link to it. Your audience may be inspired by that person too. They may have seen the content already and now you have a common connection – but you've not stolen a word, even accidentally.
Magazines and newspaper journalists work somewhat differently to content marketers when it comes to writing articles. They don't just use the web and other articles. They find expert sources to produce authority content.
Expert Sources: How do they do it?
Journalists take time to call / email experts to get their opinions on topics, even if they are an expert in that area themselves, they will call up someone and invite them to share their opinions. If they are talking about cosmetic surgery they don't just rely on medical websites for information, they'll call a plastic surgeon and someone who has had plastic surgery. Sometimes they will call someone who has had a positive experience and then a negative experience and create an article from that, with the expert sharing information through the article.
If they are doing articles related to cars, they will call on manufacturer executives or plant managers to ask about the details of the topic they are covering. They ask for quotes and extract soundbites. You might not get the same respect as a Times reporter when you're starting out as a small publisher, but you'll be surprised. There are actually plenty of people who are more than willing to give you advice to use in an article. You just need to ask.
How much better would your article on imposter syndrome be if you interviewed a psychologist specialising in the topic?
30 Expert Sources For Your Content
Remember you can always use #JournoRequest on Twitter to get experts recommended to you as well as sources for articles. I've found this works really well and have found many interesting people this way.
Books and Offline Publications
Printed publications, especially research papers, official studies or academic papers, and written books are another great source of information.
You can get more in-depth information about the subjects by looking up books and studies written by the experts in the field as well as stats and research to support what the expert is sharing with you. These are the things that you don't usually get from just browsing websites.
If you are an amateur astronomer the chances are you have a blog and can be found that way, which is handy for the "Astroid is heading to earth, lands in three hours" style article, but for more in-depth articles and detailed analysis, then books and academic papers from astronomers are a goldmine of information. Just credit the ideas and where they came from in your post.
Go to your local library, or Amazon and do some research. You will be surprised at the type and quality of content you will find.
The public at large can also provide you with great information. Though you shouldn't expect technical information, there are many subjects that the public could contribute to.
Survey them: Asking them questions that directly affect them is a good place to start. Some examples might be fuel prices, mortgage interest rates or unemployment.
This is a powerful example of information that you wouldn't get by simply punching a question into Google. You wouldn't get an answer as comprehensive and as rich as the ones given by people who live it day in and day out. Getting real information from the public can be powerful and is something you will not find by searching on the web. If you can record the conversations using Soundcloud you can embed the conversation and you now have the multi-media aspect to your article.
Remember to credit the members of the public in your content. There's nothing worse than a crowd-sourced article where the author takes the answer but doesn't credit the person giving it.
As you can see, magazine and newspaper writers have a lot more sources of information as compared to most online writers, but there's nothing to stop you using expert sources in your content. You'll find your content has more authority and is less copy-catty.
Granted, these research methods require more effort and time. But it will be time well spent especially if you create content that is impactful and insightful to your target audience.