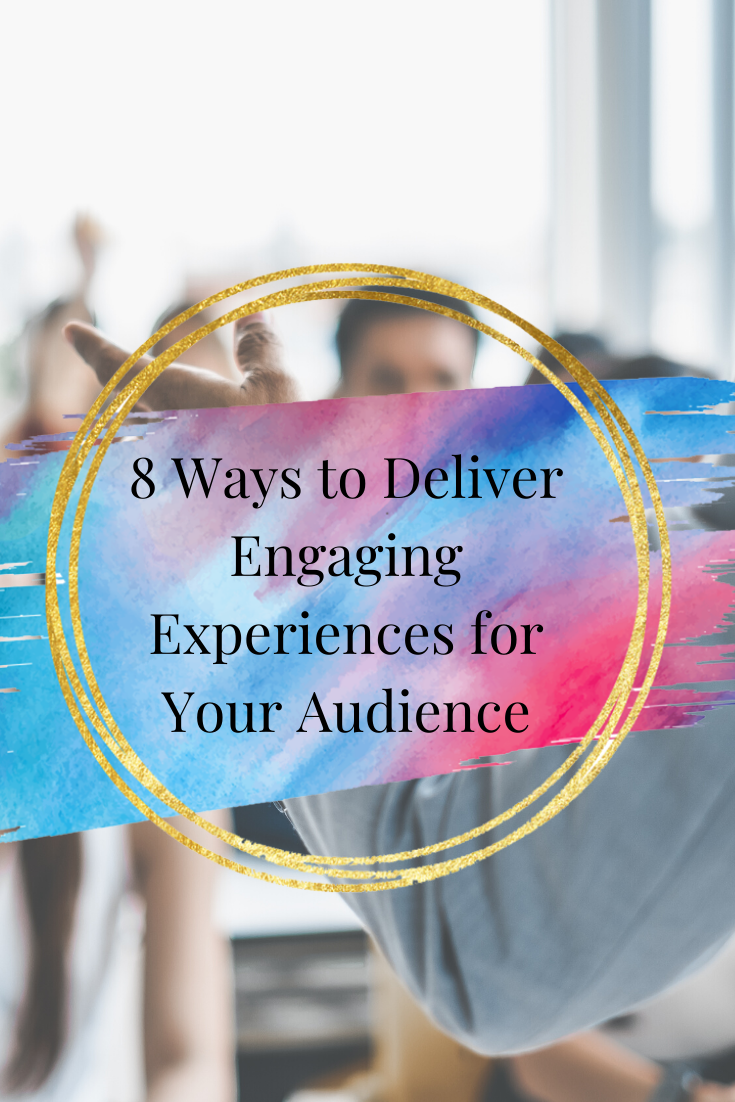 In order to grow your audience, and grow them in a natural organic way, then creating engaging experiences is close to your heart. Superficial is for other people, not you. Because you know when you truly engage your audience, they'll respond to your content with comments, questions, and more points. They'll like you, follow you, friend you, and retweet you. They'll form your community /tribe/audience and want to actively communicate with you.
That's why engagement is so important. Engagement can mean the difference between persuading your audience to buy from you or having to hustle your backside off. So how do you offer more Engaging Experiences and less limp content?
1. Offer Value in Your Content and Information
Don't post content just to post something. Create and curate content that is valuable to your audience. You want any content consumed that you recommend or create, to make your audience feel as if they've been let in on some secret that no one realized and you're responsible for letting them know about it. That will make them want to keep coming back for more.
2. Create Content That They'll Want to Share
If you really want more engagement from your audience, you must create or curate content that is share-worthy. If you saw this content someplace else, does it say to you, "wow this is important?" or "snooze"? If you feel that it's truly relevant, important, and actionable to your audience, then create it. Make it visually pleasing, make it stand out, and make it accurate too.
3. Make Engagement Easy for Your Audience
Don't hide the share buttons or the comment area. See how mine are above the content and on the side? And when you hover over an image… They're there again. Plus, if you're on a mobile device you will see at the bottom of the screen mobile sharing options – share via Whatsapp.
Point your share buttons out to your audience too. Say something at the end of your content that makes them know you want them to comment and to share. You want their opinions and thoughts on the topic, and you want them to share it with their friends. Let them know by putting big share buttons, and inviting them to share. Incentivize them using a social share locker if you need too.
4. Differentiate Yourself from the Competition
Come at content from a different angle than your competition. If they're talking about why you should or shouldn't do something, write about it from the other side. Even if you both have ultimately the same point, people are more likely to read what they should not do than what they should do. This is mainly because they like to check and make sure they're not doing what you're saying not to do.
5. Include Trending News with Planned Content
While you do need to plan your content based on your promotions and industry, you should still include trending news in your content. Each day check Google Alerts, industry magazines, social media, websites and other areas to find out what the trending news of the day is, then share your opinion on it. The easiest way is to curate content, add your thoughts to a blurb about it and then share it, asking your users what they think. Engaging Experiences is about including your audience to share their thoughts.
6. Incentivize Users to Sign Up for Your Email List
Don't just pop a newsletter sign-up on your sidebar. Instead, try writing a few different posts a few times a year about the value of your newsletter to remind readers about it and to encourage sign-ups. Think of it as a membership drive each year or so. The more people you can get on your list, the better. Give them free gifts, checklists, eBooks, white papers and so forth to get them to sign up.
We recommend Thrive Leads for this.
7. Repurpose Your Content
When you write a blog post, it can become part of a podcast and vice versa. Everything that you can create from one bit of research is a good idea. This way you'll never run out of content ideas. Each idea should be created into different forms of content to ensure that your audience gets your message.
8. Encourage User-Generated Content
Comments, discussion boards, contests, and interviews are all good ways to encourage user-generated content. The more your users participate in content, the faster your following will grow.
There is a lot of content online. Therefore, you must stand out. The best way to stand out is to become more human. The more you can interact with your audience, the more engagement you'll get, because they'll know a real person is answering back.
What are your thoughts? What would you like to add?