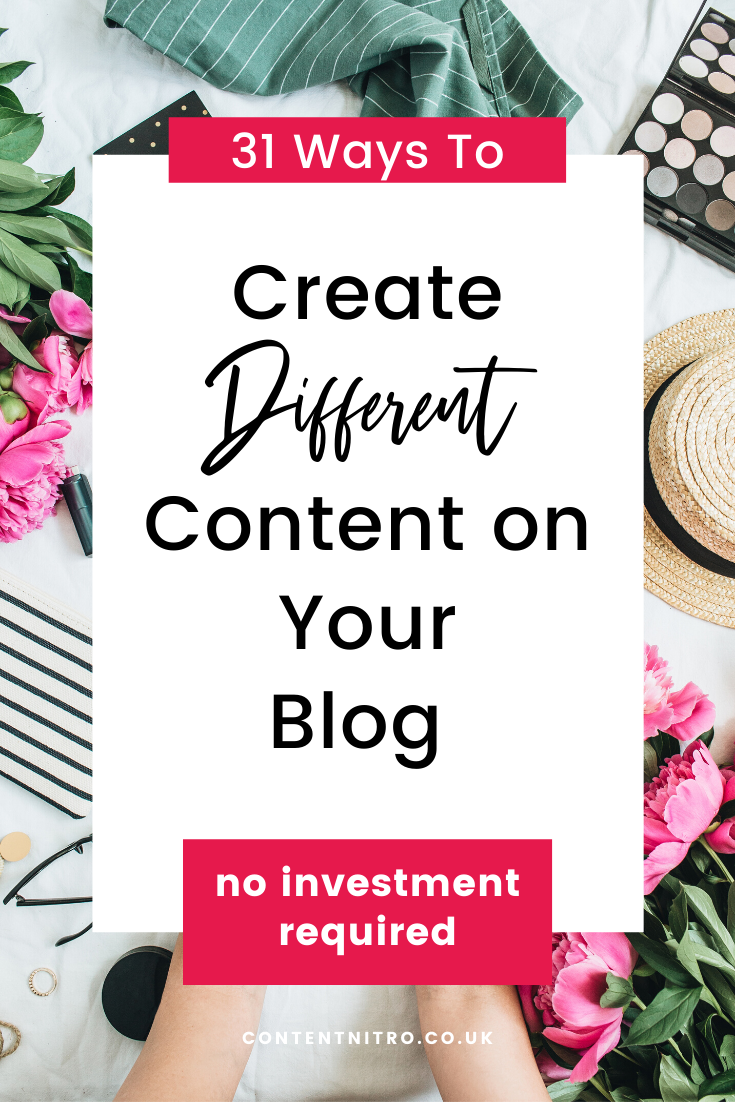 When you think of blogging content do you think of long, useful articles or do you think of something else? Blogging content goes way beyond putting together a few helpful paragraphs on a specific topic.
Each type of blog content has a different purpose. For example, PDF reports and ebooks may be lead generators for your business. Case studies are to help your subscribers make a buying decision and checklist help your audience stay on track when completing a task. Quick tips help your readers get to know you and your level of expertise. So, when you make a list of the types of content you'd like on your blog think of the bigger picture.
Here are some ideas to help you generate useful blog content for your readers. When you share the post you'll also be able to access some handy bonus content!  #Spoileralert! It's a really useful checklist. Just remember to share from the box at the end of the post!
Workbooks: So your readers can apply what they've learned. They might be given away for free or be part of a product for sale.
PDF Reports & White Papers: Longer "articles" on a specific topic that can be used as an ethical bribe to build your list, as a gift for your customers or for distribution by other websites and affiliates.
Ebooks: For free or for sale, ebooks can be very valuable for your readers.
Checklists:

Make it easy for your readers to complete a process by giving them a handy checklist.

If you're marketing to construction workers, give them a checklist of things they need to accomplish before working a job, like a

health and safety test

. If you're marketing to small business owners, offer checklists of things they should accomplish before launching their brand.

Transcripts: Got video or audio? Have it transcribed, so the content is easy to reference and can be consumed by readers who can't watch the video or listen to the audio.
Case Studies: Share success stories and experiences of your willing customers and clients.
Quick Tips: Who says you have to write long articles? Share a daily tip that your readers would find valuable.
Inspirational Quotes: People love quotes. Find relevant ones for your market.
Product Reviews: Your readers will appreciate in-depth and honest reviews of products.
Product Comparisons: When your readers might need to make a choice between products, make it easy for them to compare features and benefits.
Interviews: Audio, video or written – interviews are relatively easy to put together.
FAQs (Frequently Asked Questions) Answers: Ask your readers to submit questions and pay attention to what they ask via email, on your blog, etc. Create a FAQ with the answers they need.
Questions for your Readers: Turn the tables and let your readers create the content. Ask them questions that will get them thinking and self-reflecting.
Flowcharts: For your visual learners, a flow chart illustrating a process might come in very handy.
Instructions: If there's one thing that's lacking online, it is detailed instructions for people to use products and services. Give your readers an extra hand by giving them handy instructions.
Content Summaries: Summarize long pieces for your readers, saving them plenty of time in the process.
Fill-in-the-Blanks: Give your readers a chance to apply what they've learned and self-reflect by giving them a fill-in-the-blanks sheet.
Resource Lists: Everybody loves good resources. They save heaps of time. Share yours freely.
Tip Lists: No need for long-form articles all of the time – just give your readers an easy-reference tips list.
Spreadsheets: Help your readers keep inventory, do calculations and stay organized.
Glossaries: Keep a glossary of jargon and terms for your readers.
Patterns: Think craft patterns, sewing patterns, etc.
Editorials: Include commentary on guest articles, in your newsletter, etc.
Audio & Podcasts: Record and publish…it's as simple as that. Audios with just yourself or as an interview work well.
Live Action Video: Share a useful video of yourself or with someone else.
Screen Capture Video: Show a slide show on your computer, demonstrate software or how to use a website.
Coloring Sheets: Sometimes just for kids – but you might have useful ones for adults too because coloring is therapeutic!
Quizzes: Quiz their knowledge, personal suitability and more.
Questionnaires: Get your readers feedback or make an opportunity for your readers to self-reflect on their answers.
Photographs: Easy peasy content. Take a picture and share it. Tools like Canva make this easier than ever before – just add branding!
Illustrations: Whether it's hand-drawn or computer-generated, you can show statistics, share an idea and more.