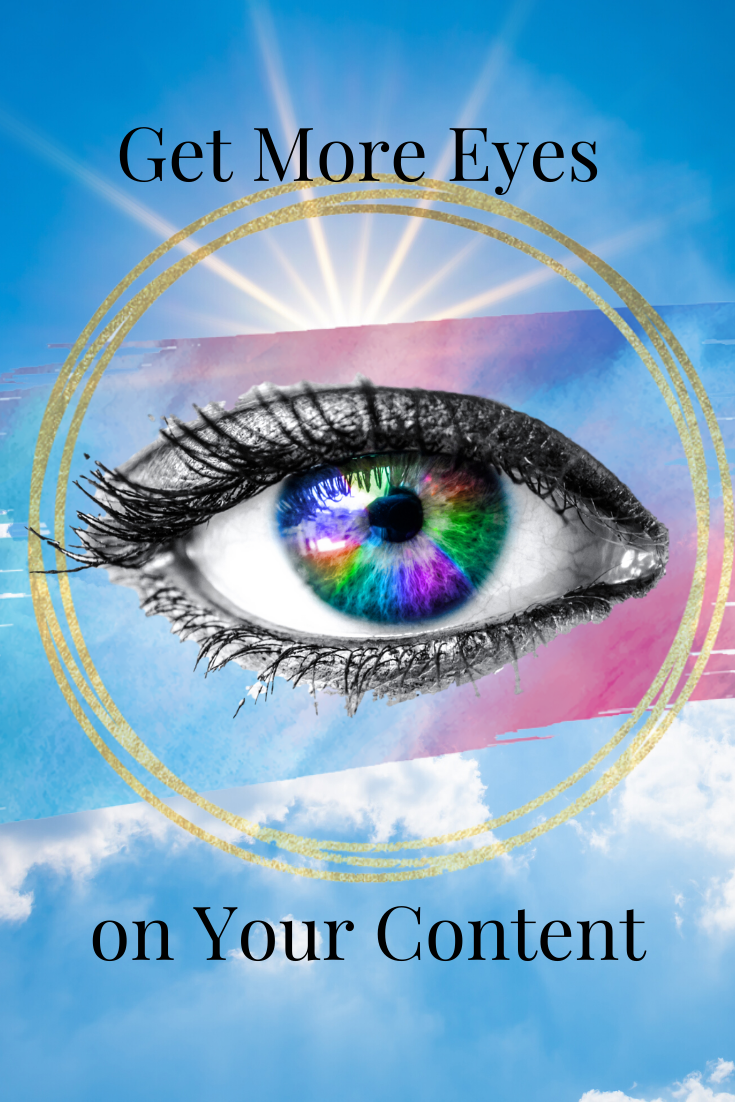 Need more eyes on your content? Don't start here. Hell no. This is not your blog post.
You don't need more eyes on your content – you need the right eyes on your content. One pageview from the right person is worth 10,000 from the wrong person. Why? Because the right person will love what you have to say and share your content. The wrong people will just click the browser back button and carry on searching! You don't want this to happen, do you?
The best way to get the word out about the amazing, valuable content you're creating in the blogging challenge is to promote it. There are many ways to promote your content so you'll need to figure out who you want to reach so that you can decide which ones to try. This means creating a content and promotion schedule. When you create a content marketing and promotion schedule for each post it's going to be a lot easier to ensure that the promotion takes place, but also ensures that you're reaching the right people.
What's Acceptable for Each Social Media Platform?
Each social media platform has its own personality. Twitter is different from LinkedIn for example. Facebook also has its own unique personality.  If you want to promote to people on a platform it's important to get to know the personality of each platform and what's considered acceptable. Most platforms offer some advice regarding this to help you make it work.
As a rule of thumb
LinkedIn – Corporates and Business owners – formal and open to starting sales conversations
Facebook – self-employed business owners, micro businesses – more relaxed, don't really like pushy sales
Twitter – rapid conversations with both groups of people mentioned above – don't like automated messages or repeating content
Pinterest – 80% women who make decisions, and they pin because they plan – They like content that's visually appealing
Instagram – Home of the millennials… and they like gorgeous images and unless you have a certain number of followers you have to remind them that your content link is in the bio.
You Tube –  The second biggest search engine on the planet. A quick video intro to your content with the link in the description (if you're part of the blogging challenge you'll love the day where I show you how to rapidly repurpose your videos)
Anchor.fm – read your post and then you have the audio version!
Is There a Preferred Time of Day To Share?
Each platform will show you in their analytics which time of day is best for their shares. However, it's important to also know your audience because each audience is a little different in what time they want to consume content. When I had a blog for mums I'd post at 10am and get zero traffic. When I started publishing at 6am I tripled my traffic. Early worked better for my mums audience.  Here's a quick list of some of the better times to post to get more eyes on your content.
How Long Will Your Content be Relevant?
If the content is around an event or product you're promoting then you may only have four to six weeks to give the information, in which case you want to be more proactive in promoting. But if it's evergreen content you may not want to bombard your audience with the information every single day.
Then for each post develop the schedule based on that information. Let's use Twitter as an example. On Twitter, you can share more often than you can on other networks, you can tag people, and promote the Tweet by paying. This makes it super easy to promote your content.
• First Publishing – The day you publish the content you will automatically want to share it on Twitter announcing your new blog post. Also, pull five to 10 quotes, stats, or points from the content for later.
• Same Day – Later in the day you will want to share the new blog post a few times, up to three times that day, using different quotes from the content. So, the first time it's okay to say, "New post about xyz" but the following times you share it to make it look interesting by pulling a fact out of the content. "Did you know that sharing your content more than once can double your conversion rate?" or "Want to double your conversion rate, this is how."
• Tomorrow – Now you want to slow it down a bit but use the rest of the facts and quotes you've pulled out and share them some more. Also, consider tagging experts mentioned within the content so that they and their audience will see it.
• How Many Days? – You can continue promoting it every day as long as it's relevant. Promote more if it's timely information, do it fewer times if it's evergreen content. For example, if it's an event you want to mention it more so you get enough people signed up. If it's evergreen you can promote less, but still share consistently.
• What's Next? – Depending on the timeliness of the content you can keep sharing it for a month or even more. If it's evergreen you can share it weekly forever. If it's got a time limit share it daily until the date of the event.
Once you've set up a schedule for the content marketing and promotions you can use software like coschedule.com or buffer.com to schedule it all out in advance.
I use a tool called MissingLettr to help me do all of this with my content, and it's incredibly effective. I also check Appsumo on a regular basis for content promotion deals.
By promoting your content where your ideal customer is, and using the tools mentioned to automate things you'll find content promotion has never been easier!
Share with me in the comments your favourite way to promote your content