The role of the Contact Us Page on your website is pretty straightforward: This is a page whose sole purpose is to allow your website visitors to contact you. It doesn't need fancy designs, buttons or all-singing, all-dancing videos. But it does need a few things that will increase your contact page conversions and help you get found in the search engines.
Since your Contact Us Page is a direct touch-point with your visitor, it needs to have a strong human presence. Put images of your employees, either smiling at the camera or going about their work.
Add your photo. Here's a Canva template to get you started. When you open the link, click "file" in the top left corner, then click make a copy. Close down the original tab and then work on your copy. Here's ours: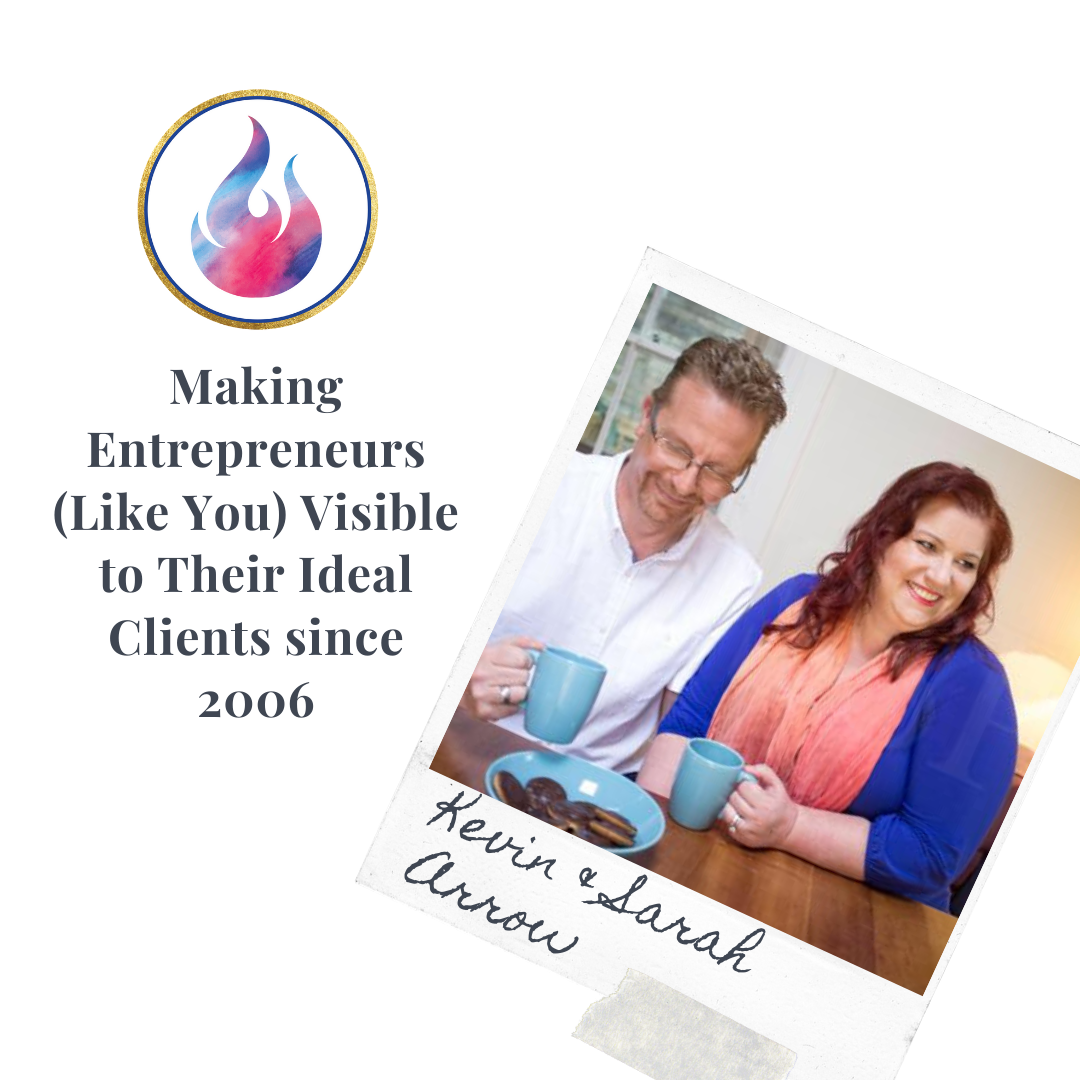 Our photo gives our visitor an idea of what they can expect when they contact us. Who will they be talking to? You could even put brief bios of some of your employees here who might be answering the email or call.
Your contact page is also the place for your "follow me on social media buttons".
You can enhance your contact page by getting creative with the wording. For example, instead of something ordinary like "Contact us here," you can say something like, "Is xxxx on your mind?". xxxx is what you do. So I could say "Is content on your mind?" or "Is visibility on your mind?". Asking a question gets people ready to answer the question.  Use a conversational tone as if you or a team member is actually talking to the visitor and they're more likely to contact you.
Designing Your Contact Page:
Go for a design scheme for your Contact Us Page that's simple but fits your design.
Remove any clutter that stands in the way of the visitor filling out your contact form.
Ensure that your content form can be read on a mobile device
If you have premises where customers can visit then add in a Google Map.
Use colour, design and imagery that's attractive to your visitors and that they identify with. Put just as much effort into this as your other pages, even though its purpose is so simple.
How to Embed a Google Map or Location
On your computer, open Google Maps.
Go to the directions, map, or Street View image you want to share.
On the top left, click Menu .
Select Share or embed map. If you don't see this option, click Link to this map.

Optional: To create a shorter web page link, check the box next to "Short URL."

Copy and paste the link wherever you want to share the map.
Source: Google
Additional Things to Add to Your Contact Page:
FAQS also do well on your contact page. These are some of the reasons people are contacting you and if you can help them here that's great. Take the most common questions you get asked and put them on your contact page. If you use a tool like Thrive Architect you can create a lovely dropdown with the questions in. The questions and answers you put could the exact ones on the visitor's mind and you'll save them the trouble of contacting you.
Opening Hours
If you have premises, one of the reasons people are contacting you is to find out when you are open, or when you are trading. You can have your opening hours in your dropdown FAQs if you wish.
Parking and How To Get to You
Again, if you have premises people will want to know if they can park when they visit. If they can't park on your premise where can they park?
How does a visitor reach you by bus? Train? Some other way? Again, these can go in your FAQ dropdown. If your appointments are by booking only make sure you have a booking form on your page.
To Phone or Not to Phone?
If you want phone calls from prospects and clients, make sure you add in your phone number.
Add it to the top of the page.
Add it under the image caption
Add it as one of your FAQS
Don't want to be contacted by phone? Bury the phone number at the bottom of the page.
N-A-P (Name-Address-Phone Number)
Your contact page is also where your N-A-P belongs. N-A-P means Name, Address, Phone number. It doesn't mean you take a 30-minute snooze each afternoon. N-A-P is what the search engines use to show searchers local content. They can tell where you are based on your address (and so can your customers) and show them the businesses nearest to them. Most people like to do business within a 30-mile radius of where they live, so having this in place can boost your contact page's conversions.
The search engines cross-reference your N-A-P with other sites that have your address like local directories. This helps confirm you are a real person, with a real business.
If for reasons like domestic violence, you cannot add your address please book a call and I will advise you on what to do. Your call is in complete confidence.
Add a Testimonial (or Three)
Whether someone is visiting you, looking up your phone number or locating customer services for your business, it helps to have some testimonials on your contact page. These reassure your visitors that contacting you is a good thing, and that they're in the right place. If you have video testimonials, you can add them here as well.
Optimising Your Contact Page
Optimise your On-Page SEO for your name (arrow 1). Add a pipe and add your business name in the title area. Add another pipe and add your location (arrow 3). Then add a description mentioning all 3 things (arrows). Finally, add your image to your social image area (arrow 4).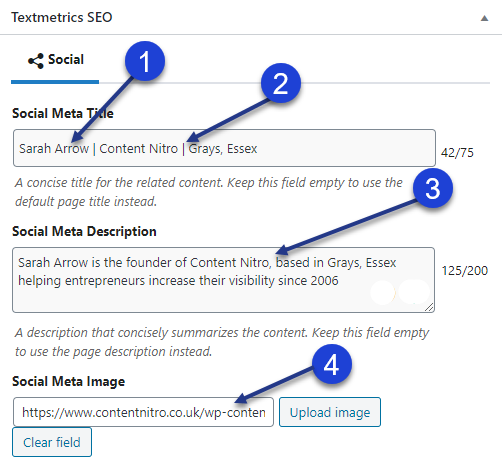 And of course, whenever someone does contact you, communicate with them in a way that's friendly and in alignment with your Brand.
Remember that although it may be their first time contacting you… and you don't know who they are… They know you already through your content.