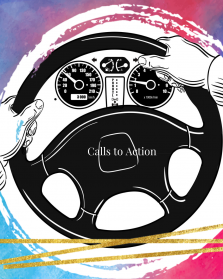 As human beings, we crave closure. We like to file things neatly in their boxes, to put things in the correct mental compartment, and label things accordingly. A compelling call to action not only gives us closure, but it also guides us on what to do next (that's the action part). Content without a call to action is like a car without fuel.
If you imagine the blog post is a human body, the calls to action are the hands. They guide and steer the reader towards an action that's helpful for you the content creator as well as helping themselves.
Now there are some business owners who think that calls to action are filthy dirty things, and they should not be included anywhere on their blog or in their content because it's selling. They think selling is a dirty word, and resent anyone who tries to earn a living. The good news is if you've read this far then you're most certainly not one of them.
Don't panic! This post contains plenty of call to action examples. Remember the very least you should ask for is a social share if someone enjoys your post. Social share calls to action are very easy:
If you like this post please share it on Facebook
Like this? Then please pin it to your writing board on Pinterest
Did this post hit the spot? Then share it on Twitter
Ideally, you will ask for a social share where your ideal prospect is hanging out. Going viral on LinkedIn is wonderful, but if all your ideal clients are on Pinterest then they won't see your content. A lot of business owners will limit the social sharing options to the sites they're active on. When your reader is an avid Pinner they will have tools to pin even if you don't have a Pinterest button. Your sharing buttons are only a guide for the reader. Die-hard fans of certain social networks will know how to share regardless of whether you have a button.
Comments are a sign of an active blogger. If you're actively commenting on other blog posts you'll find it easy to strike up a conversation. When you're new, it can be harder. To get good comments you need to leave room for the conversation or you'll only get spammy types of comments like "Good post". When you've done that the next step is to have your comment calls to action.
If something I've said has resonated with you then please leave a comment
What do you think?
Have you tried this? Share your story in the comments.
Now, if you're a business blogger you have to make it obvious when you want someone to pick up the phone and call you. The right call to action is dependent on the type of blog post. Let's say you have created a great case study for your blog. The call to action should be something like "If you'd like to get these kinds of results in your business then call us on xxx for a no-obligation chat".
25 Call to Action Examples You Can Swipe Right Now!
1. For a limited time only, you get ___ for ONLY £___!
2. Get it now, risk-free.
3. Reserve your [seat/spot] at 50% off the door/launch) price
4. For the next ___ hours, get ___% off
5. Only through this link
6. And if that's not enough, buy right now and get____ [extra savings, bonus material, etc.]
7. Offer expires at midnight tonight so don't wait
8. Secure your copy right now before it's too late
9. Don't let this opportunity slip by. Reserve your spot right now!
10. Order Now and get started in minutes.
11. Reply now, and start ____ [making money, losing weight, etc.] tomorrow.
12. Start building your future today.
13. Change starts right now. Choose this proven product with real results.
14. Copies are selling out fast. So grab yours before they're gone.
15. Extremely limited supply so take action FAST.
16. Ask yourself this. Are you really ready to make a change? If so, click here to buy
17. This offer will not be made again! Buy now for the lowest price available.
18. Don't wait any longer! Start seeing real results in as little as___ [hours, days, weeks]
19. Act now before this deal is gone for good!
20. You can change your life starting from today…
21. The next move is up to you.
22. You deserve [desired results: be thinner, make more money, etc.] All that's left is to take the action to do it.
23. You owe it to yourself to take full advantage of this very limited, risk free offer right now before it's too late
24. Do yourself and your business a favour. Join today, won't you?
25. What are you waiting for? Secure your order and get immediate access to ___!
Call to actions are not set in stone
If you've got blog posts without a call to action, then you can edit it and add one. If you have high traffic posts, yet no phone calls then go in and change the call to action and see what happens.
Need a visual call to action?
Create a call to action graphic using Canva. Here's two examples for building your email list: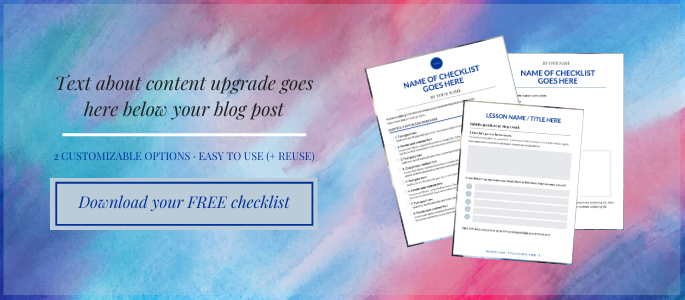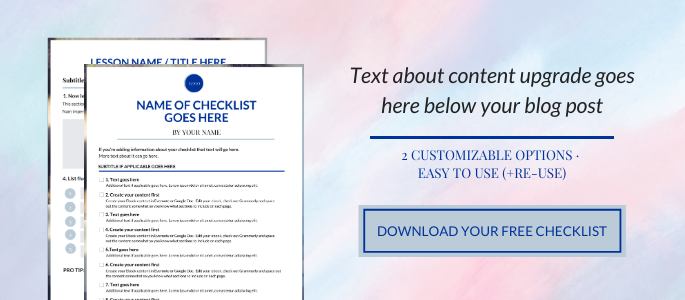 A visual call to action is very eye-catching! Test which works best for your audience – visual or text.
Where To Put Your Call To Action?
A call to action doesn't have to be at the end of your blog post. It can be in your sidebar, it can be in your header and it can be anywhere on your blog where you want to capture people's attention and get them to take action. One popular place for calls to action is in the caption area of your images!
What's your favourite call to action? Do you have an example you'd like to share in the comments?

PS Would you like more calls to action that you can swipe? Share this post and you can access a content roadmap with additional calls to action to use in your blog posts