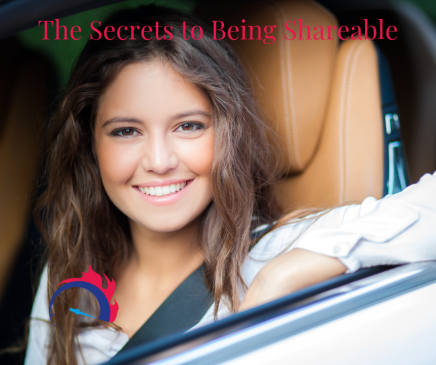 This is the fourth article in the Get Seen, Get Traffic series.  Today we're going to talk about what makes some Facebook posts, videos, or blog posts "go viral," while yours are lucky to have 7 shares and two comments, and one of those is from your mum?
While it might seem like some well-kept secret, the truth is it's easy enough to create shareable content, if you put some thought and creativity into your content marketing.
Everyone Loves Infographics
Whether you want to know more about how long it takes some super trader to earn your annual income, or you're looking for ways to Feng shui your home, you'll find a variety of infographics to show you how.
These colourful, easy-to-read graphics share vast amounts of data while still entertaining an audience. By condensing numbers and stats down to easily digestible bite-sized pieces, you can make valuable information highly understandable for any reader. Even better, your market will be happy to share (and share and share).
If you're not creative or don't have the skills required to create your own, you can hire designers from freelancing sites or use Canva.com to quickly make infographics your audience will love.
More on this in Get Seen, Get Traffic Day 3 – 10 Day Infographic Challenge
[thrive_text_block color="blue" headline=""] Being Shareable Tip: create an embeddable link for your infographic, and encourage other blog owners to share it on their sites. You'll automatically drive traffic from every site that posts your content and accelerate up the search engines! [/thrive_text_block]
Create Valuable Posts
Writing a blog post? Don't just skim the surface of a topic. Go deeper. Provide as much relevant detail as you can on the topic and make sure you've done your research first. The post should speak to your ideal client and make her feel like you understand what's going on in her life.
If you can do this in 300 words that's brilliant,  but the truth of being shareable is that it has to be as long as it needs to be for your reader.  This post could've been
Add share buttons
Create Infographics
Show your personality
That's 8 words. Where's the value in those 8 words? It needs context. It needs to be made relevant to you.  The truth is, posts of 3,000 words are more likely to be shared than their shorter cousins. Don't worry about attention spans. Readers have proven they want good info, and they don't mind a long post to get it.
What they don't want is a boring post. 3,000 words of rage doesn't make enjoyable reading either, so take a look at your tone.  Remember to format your content too, or you'll find your wall of text is ignored.
Being You = Being More Shareable


No one wants to read or share another echo chamber post. Not you, not me and not your audience. We don't want it, so we won't share it.
What your audience craves —and what they'll happily share with their friends and fans—is personality-driven pieces that aren't afraid to take a stand for the things they believe in. That fence you're sitting on is dividing your audience 3-ways instead of 2, which means you have a smaller audience share… Get off the darn fricking fence and speak up!
It's easy to form a connection with someone who is authentic because you feel like you know them personally and what they've shared resonates with you. And what do you do with your friend's content? You share it, of course! Being you makes you more shareable.
It doesn't take much to be shareable. Just be yourself, be firm in your beliefs, and be valuable. Oh, and if you found this useful, share it.