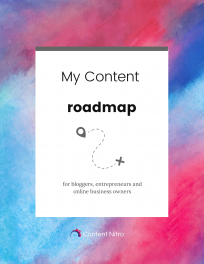 Smart business owners know that planning their content is the key to higher profits. In fact, if you ask many entrepreneurs what they have in the works, they'll be able to tell you nearly every promotion and product coming up for the next 12 or even 24 months.
But creating that kind of long-term plan doesn't come naturally for many people. I don't know any person born with a gene that makes content planning easier for them! So, if you're struggling with the whole planning thing, don't worry, you're not alone. When it comes to content planning you have to not only have a vision for where you want your business to go, but you also have to know what you need to create (and when), be able to assign the tasks to your VA or other team members, work in some additional promos for complimentary products, and still leave room for last-minute offers.
Whew! No wonder we get so overwhelmed when it comes to planning content. The "seat of your pants" content plan seems less painful!
Unfortunately, the seat of your pants content planning won't help to grow your income and will derail your content marketing in the long term. Let's get planning and make your next 30 days of content as easy (and profitable) as possible!
Where to Start With Your Next 30 Days of Content:
Rather than a list of titles and suggestions for you to adapt, you're going to create your own content plan for the next 30 days and beyond.
There's a special action guide here to help you brainstorm your ideas:
Make a list of the things that people ask you the most. It doesn't matter whether these things are asked of you in person, or on social media. Just jot them down on the action sheets.
What do people need to know in order to make a purchase from you?
What do they need to know about your services that will make a difference in their life?
Why did you start your business?
What have you learned on your journey?
What do your ideal customers love about working with you?
What's the best thing about your main service?
Make a note of your answers, and you'll find as you go through the action sheets that more ideas pop into your brain. I love that ideas bring more ideas!
15 Tools to Generate Blog Post Ideas
I don't know if you are like me, but every now and then I don't want to think I just want an idea… This is where these blog post idea generators spring into action!
Add your ideas from the blog post idea generators to your action sheet, also make a note of your favorite blog post idea generator.
You have your content ideas… What next?
You're brimming with ideas, now you need to think about what you will promote. Content, when aligned with your business goals, is powerful.
What is your goal for the month? Is it to
Build your list?
Sell a product?
Create awareness?
Mark on the idea roadmap what the goal is for each content idea. If it's listbuilding you know your call to action is to join your email list. If it's to sell a product which one will it sell? The call to action links to this sales page? If it's an awareness post the call to action links to your call booking page.
As you do this you'll start to see how beneficial content planning is. You'll love how you know what's coming up, and how your content can support your marketing.
Planning your content for the next 30 Days will make your blogging challenge so much easier, and you'll get so much more from it. Don't worry if you only have time to complete half of it. Some of it is better than none, and you can always come back and add to your roadmap and action guide later!