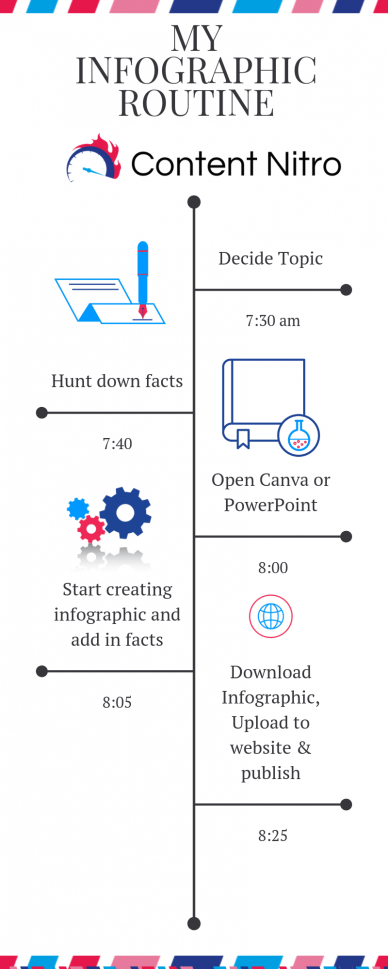 This post is the third in the Get Seen, Get Traffic series. You can find Part I here, and Part II here.
In part II of the Get Seen, Get Traffic series I shared with you the "challenge yourself" concept to grow your audience. This is a fantastic way to grow your audience and a deep connection with them. But it's scary. To build your confidence we're going to be creative in a different way. Today, we're going to look at the 10 days of Infographics concept to drive traffic back to your site.
Everyone Loves Infographics!
Infographics are brilliant for presenting complex data or ideas in visual form. They're easily shareable, and a good one will bring in a stream of traffic! They work on all social media platforms, and there's one place you can publish and create a traffic loop – more on that later!
Any kind of business can create infographics
I've even created one on my Infographic Routine, this one took me 10 minutes to create as I already had my timeline, my template and my icons ready.
I've an infographic that's been pinned over 100,000 times on Pinterest, and if you search for infographics there you will see lots of them generate traffic for their creators.
Imagine Publishing Infographics for 10 Consecutive Days!
I did this in the summer of 2018. We'd had an unexpected death in the family, and I was struggling to write blog posts. I did manage to create some very good videos and publish 10 consecutive days of infographics. Initially, the videos performed the best gathering hundreds of views on Facebook and LinkedIn. Then the infographic magic kicked in, and their still generating traffic to this day! One particular infographic went viral on Pinterest and is sending hundreds of visitors every single day.
10 Day Infographic Challenge

 Decide on whether you will use Canva.com or PowerPoint to create your infographics. Both have their advantages and disadvantages, so choose the one you're most comfortable with.
Brainstorm your infographic ideas and select the 10 best ones
Open up your blog and create 10 new posts
Give each one a title and the #infographic to the headline
Write a paragraph introduction
Write a call to action asking the viewer to pin your infographic if they like it
Save these as drafts
Create your infographics and download them
Upload them to the corresponding blog post and schedule them to publish on 10 consecutive days
When you've done all 10, take a deep breath and relax – you've done it
Promoting Your Infographics
Once you've created your infographics, the next step is to share them.
Create a board on Pinterest for Infographics, and pin to it all the infographics that you like. When you have 20 or 30 on your board, pin your freshly published ones. Pinterest is powerful in creating viral traffic loops, If you've not got a Pinterest marketing strategy, book a call, and let's create one together.
Share your infographics in an article on LinkedIn, and remember to Tweet the article as well.
Upload your infographic on your Facebook page – you may have to cut it into smaller pieces and share it as a series.
Look at the sharing days in the communities you're in. When these are available share your infographics there and ask people what they think.
Add your infographic to MissingLettr and schedule it for 12 months of promotion
And there you have it! Enjoy creating your infographics and the benefits of the traffic back to your website and social media pages.
Look out for the next article in the Get Seen, Get Traffic series.